Nemox Ice Cream Maker
The Nemox ice cream maker is a professional quality ice cream machine that's easy to use and perfect for an ice cream business. Here's a review of their models.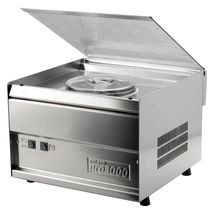 Nemox ice cream machines are known all over the world for their ability to create spectacular frozen treats.
Made in Italy, the products are designed for a European market, and gelato is frequently customers' motivation for purchasing these quality machines.
However, Nemox ice cream machines are used across the globe by home owners and businesses in need of ice cream production.
Features of the Nemox Ice Cream Maker
Stainless steel exterior, bowls, and blades
Removable ice cream bowls and blades for easy cleaning
Unit covers made of tempered glass for strength and optimal viewing during ice cream production
An electrical security mechanism stops the blades when the lid is opened
Powerful motors and compressor systems
Nemox Products:
Nemox Gelato Combi Pro 3000
Product Features:
Ice cream machine pulls 380 watts
Storage case pulls 120V
Makes 3.5 quarts of ice cream every 20-40 minutes
Features an additional 3.5 quart storage section to keep ice cream cool and fresh
Includes 2 removable bowls, ice cream spatula, measuring cup, and a flavor separator so that two flavors can be stored in the same storage bowl
Size: 30.31 x 19.69 x 14.17 inches, 121 lbs
This powerful Nemox ice cream machine is capable of making up to 10 quarts of delicious ice cream, gelato, or custard in a single hour.
Whether you operate a restaurant or an ice cream stand, you can be sure of quality products that will motivate customer loyalty when you use the Nemox Gelato Combi Pro 3000.
The sleek design features a glass top for easy viewing of a 3.5 quart ice cream maker, which rests beside its identically sized storage bowl.
This system is no mere Nemox ice cream maker – it is an ice cream shop on the go!
Nemox Gelato Pro 6000
Product Features:
780 watts
Stainless steel body
Dual ice cream making bowls make up to 6 quarts in an hour
Includes 2 removable bowls, 2 ice cream spoons, 1 measuring cup, and 4 silicone blade insert sets
Size: 77 x 50 x 36 cm
One of the most innovative Nemox ice cream makers, the Gelato Pro 6000 is the only product on the market that is capable of simultaneously making two different ice cream flavors. Dual 1.5 quart bowls can jointly make up to 6 quarts of ice cream in an hour, for a variety of tasty treats that will keep customers coming back for more.
Buy a Nemox Machine at a Great Price
Go back to Soft Serve Ice Cream Makers Main Page
Go to Serving-Ice-Cream.com Home Page from Nemox Ice Cream Maker