Japanese Ice Cream
by Paul and Aidan
(Japanese Ice Cream)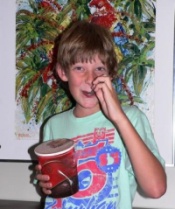 My son with a huge tub of ice cream
– yes it is chocolate and not Japanese-
(hey, sometimes just nice chocolate ice cream is the best!)
Japanese Ice Cream Blog: Japanese ice cream recipes, treats, weird flavors, and more!
Name: Paul and Aidan
Favorite Homemade Ice Cream: I would have to say the Japanese Green Tea and Soy Sauce Ice Cream recipe. It may sound a horrible concoction but it actually is really yummy – the green tea flavour is really mild because it is from brewed green tea and not matcha (green tea powder) and the hint of saltiness from the soy sauce is just right.
Favorite Ice Cream Brand or Store: I have no real favourite – I do really like just the small store soft cream flavours. But sometimes I just can't go past a Chocolate Monaka Bar!
Most Exotic Ice Cream Flavor You've Ever Tried: If you look on the blog there are lots and lots of, I guess you can say, exotic flavours – or maybe just weird! Umm, maybe the Cherry Blossom soft serve ice creams – I love them, they are a bit like a really soft flavoured strawberry ice cream. My sons current favourite is actually an apple – a real apple is hollowed out and the flesh is made into ice cream and put back into the whole apple and frozen. So the apple becomes a little frozen bowl that you eat once the apple flavour ice cream is gone – really refreshing and like a creamy Italian gelati, I guess.
What is the background of your blog?
Strangely, it started because my young son loved the little melon flavoured Japanese ice cream that comes in a cute green container shaped like a little melon. We started putting different flavours that we ate plus others we see on the web on to the blog and that was it. We don't live in Japan, we are Australian, but have visited Japan quite often and always seek out yummy ice cream there and our local Japanese grocer knows us by first name :).
What sets Japanese ice cream apart from other types of ice cream and what are the similarities?
Nothing really makes it a Japanese Ice Cream compared with western ones. There are, of course, strange flavours like oyster but they are rare and novelties really. I guess the ice cream isn't quite as heavy or creamy usually but they are much the same. One big difference though is the cute packaging, the Japanese really excel in that part, don't they?
There are many different kinds of Japanese ice cream desserts. Can you explain the basic types?
Mochi is the big one that people see as a Japanese Ice cream and most think it is some old traditional dessert but it actually isn't that old, say 20 years or so, and I have read that before the mochi they used marshmellow.
Monaka is really just an ice cream sandwich style that has a kind of ice cream cone wrapped around the ice cream and great crunchy chocolate in the centre.
Pino, well it is just a tiny bite of Japanese ice cream covered in chocolate.
What's the most popular way to eat ice cream in Japan?
It is eaten just like other countries. Soft cream (soft serve ice cream) in a cone (not waffle) is very popular probably more so than elsewhere. I have seen that some restaurant served a soft cream cone with hot ramen noodles but, yuck, no normal person would eat that would they? 🙂
Many of the Japanese ice cream flavors don't seem very sweet – what do you think?
They are sweet, they just don't sound like they are. Sea Salt ice cream is very sweet but with a slight salty hint. Lavender, Cherry Blossom, Charcoal, Sweet Potato are all sweet. I know charcoal sounds like it would taste like an old burnt piece of wood and all gritty but the one I tried really just tasted like vanilla, it was more of a gimmick.
For a westerner who has never tried Japanese ice cream before, what do you recommend?
I think if any one goes to Japan or even their local Japanese supermarket try for an ice cream that is not like what you would normally buy, don't just try to get a chocolate or vanilla ice cream:) . There are a million Green Tea ice creams around, some good some OK but try something else like a good Mochi ice cream. Also try an ice cream with sweetened red bean in it – the Marunaga make a nice one shaped as a flower, it's vanilla ice cream with a red bean centre. If you see some strange flavour buy it, even if you don't like it you have the bragging rights to say 'hey, I have eaten Charcoal ice cream' 🙂
Any final tips you can share with us about making or serving Japanese ice cream?
I have a few Japanese Ice Cream recipes on the blog if you want to try them. One thing I really think is only make small amounts and don't keep it in the freezer for ever – same goes for store bought ice cream, only buy little amounts and more often then a huge container that lasts a month. And, really, compared to other desserts, ice cream is cheap so buy and make good quality ice cream (and make it Japanese style)
Ever check out Japanese Ice Cream? Rate this blog and let us know your thoughts!