Ice Cream Clip Art
Need some free ice cream clip art? Let us help you find the images you need for your project.
Looking for a one-stop reference list for clip art and stock images all centered around ice cream? You've come to the right place!
There are lots of Internet sites that offer multitudes of clip art – some free and some that charge a small royalty fee.
This article will mention several and give you a one-sheet reference to save you the hours of searching and surfing to find just that right graphic or clip art!
Why Ice Cream Clip Art?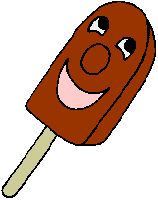 Eating ice cream is an all-time favorite American pastime! It doesn't matter your age – ice cream just never goes out of style!
You can capitalize on this undeniable favorite, and use clip art and images centered around this frozen treat to make the presentation of your product stand out and attract attention!
Any site that has the word "free" in it is a good place to start! Here are several sites you can use:
With these links, you should have plenty of sources for great ice cream images!
Go to Ice Cream Info Main Page
Go to Serving-Ice-Cream.com Home Page from Ice Cream Clip Art