Almond Ice Cream Recipe
Alright all you non-dairy ice cream lovers, have I got a treat for you! Almond Ice Cream!
Simple. Healthy. Delicious.
Come, give it a try.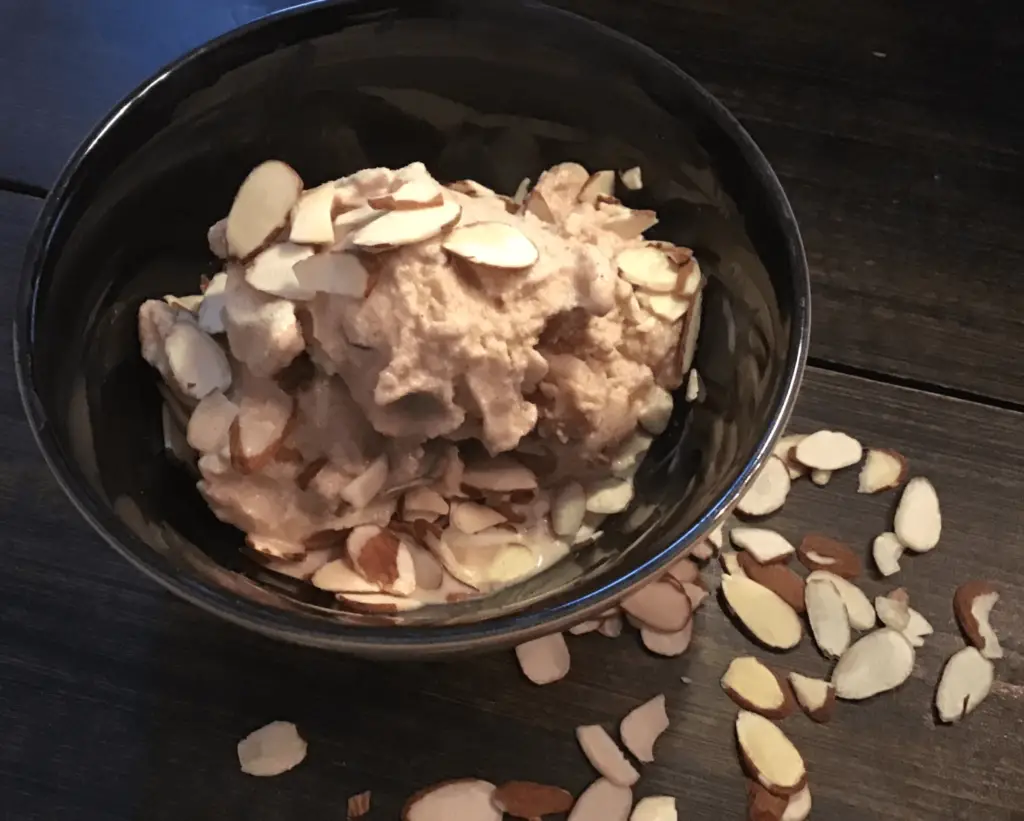 Not only is this ice cream super for those who want to go dairy-free, but it also fits nicely with other diets.
Those on a keto, paleo, or vegan diet can also splurge with this delicious dessert.
Make it Easily
So what's so good about this recipe?
One of the reasons I just love to make this ice cream is that it is incredibly easy to make.
It's one of those recipes that you don't have to pay much attention to the instructions (yes! confessions of an occasionally haphazard cook!)
Simply mix all the ingredients (except the extra mix-ins if you want them) in a blender and – ta-da! – you're ready to freeze some ice cream!
Because of the almond butter in this ice cream base, you can simply freeze the ice cream base in your freezer.
However, I'm a little OCD I guess. I always use my ice cream maker to make ice cream as it helps make the ice cream softer.
The ice cream maker churns in tiny air bubbles that help make this treat soft and scoop-able.
When you're ready to serve, just de-thaw until it's soft enough to scoop out.
Easy enough for me!
Eat it on Most Diets
Because the ice cream is based on nut ingredients and not on dairy, it is a suitable treat for people on most diets or with certain health restrictions.
It is perfect for those on a dairy-free diet: it does not use regular milk but almond milk.
It's great for a vegan diet as no animal products are used: again, almond milk is used instead of cow's milk.
It fits with a paleo diet as it is has a high concentration of almonds.
It works great on the keto diet, because it has good fat. I have used erythritol, a keto friendly sweetener, to make this work as a yummy keto treat.
Finding the Ingredients
Almond Milk
Almond milk has become more popular over the years.
You should be able to easily find it beside other dairy alternatives in the refrigerated section or your grocery store.
Although this recipe calls for almond milk, you are welcome to substitute it out with another milk. You can use any milk that has a mild flavor and will not overpower the almond flavor.
Almond Butter
Almond butter is generally easy to find beside the peanut butter with other alternative nut butters.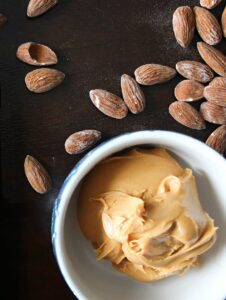 The Sugar
Feel free to choose your favorite type of sweetener for this recipe.
Maple syrup or even honey can be used to not only make the ice cream sweet, but also to help make it soft.
Erythritol is fine option as well. I've used it with this recipe, but I think it makes a slightly harder ice cram.
Yes, regular sugar is fine and no, you don't have to feel guilty for using it.
Serving Tip for Almond Ice Cream
Garnish with sliced almonds and shaved chocolate. This adds a crunchy flair to the ice cream.
You may have to let the ice cream thaw for a short time if you store this ice cream in the freezer for a long period of time. Thaw until it is easy to scoop.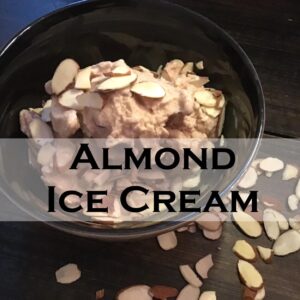 Almond Ice Cream
Almond ice cream is a delicious non-dairy alternative to this frozen treat. It's also Paleo, Vegan and Keto. Perfect!
Ingredients  
¾

cup

almond butter

3

cups

almond milk

choose one with a higher fat content

½

cup

sweetener

sugar, maple syrup, honey, erythritol, etc.

¼

tsp

salt

1

tsp

vanilla

½

cup

almonds, sliced or slivered

optional

½

cup

chocolate chips, mini

optional
Instructions 
Prepare to blend ingredients. Use a blender or a bowl and stick blender.

In blender or bowl, place all ingredients except sliced almonds and chocolate chips.

Blend ingredients until completely combined.

Pour almond ice cream base into your ice cream maker.

Churn ice cream base according to manufacturer's instructions - usually about for 25-30 minutes .

Add almonds and chocolate chips during the last 5 minutes of churning.
Tips
A fast freeze produces a smoother ice cream. After you blend the ice cream ingredients together, you may have to chill the base in refrigerator for a little bit. This is especially important if your ingredients like your sweetener and almond butter were not previously refrigerated. Depending on how long you blended the ingredients, the blending may warm up the ice cream base as well.

If you are adding cashew pieces make sure that the pieces are not too large. Large mix-ins can wreck your ice cream maker.

If ice cream is stored in the freezer for a long time, it will become hard. You will have to dethaw slightly before serving.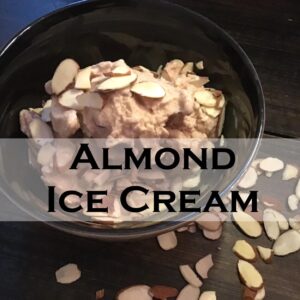 Go back to Non-Dairy Ice Cream Recipes Main Page
Go back to Ice Cream Recipe Main Page
Go to Serving-Ice-Cream.com Home Page from Almond Ice Cream Recipe