The Strawberry Social
by Monica
(Canada)
A vanilla bean ice cream sundae accompanied by angel food cake and topped with fresh strawberries, dark chocolate sauce, and real whipped cream.
Two favorite desserts combine to create one delightful treat. It doesn't get much better than this!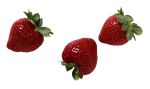 What You'll Need
Vanilla Bean Ice Cream
Sliced Angel Food Cake
Fresh Strawberries
Dark Chocolate Sauce
Real Whipped Cream
What You'll Need to Do
Arrange scoops of vanilla bean ice cream and sliced angel food cake in a shallow bowl.
Smother with fresh strawberries.
Drizzle this all with dark chocolate sauce.
Top with real whipped cream.
Enjoy The Strawberry Social with a friend!
Go back to Ice Cream Sundae Main Page
Go to Serving-Ice-Cream.com Home Page