The Hot Fudge Chocolate Brownie Dream
by Joseph Johnson
(Ballground, GA)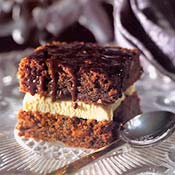 Makes a real good dessert.
A chocolate ice cream sundae mixed with hot chocolate and served with a brownie.
It's like the old "dip your cookie in milk" treat – with a chocolate lover's flair. With the chocolate ice cream, brownie, and hot chocolate – get yourself ready for a unique treat!
What You'll Need
Chocolate Ice Cream
Brownie
Hot Chocolate
What You'll Need
Get A bowl, put chocolate ice cream in it.
Put a brownie in it.
Get hot chocolate and mix it with the ice cream.
Get a spoon and eat it.
Yum!
Go back to Ice Cream Sundae Main Page
Go to Serving-Ice-Cream.com Home Page