Milo Ice Cream Recipe
Here's a Milo ice cream recipe you should try – especially if you like to drink Milo!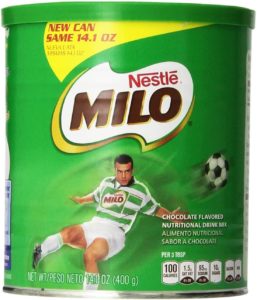 Just What is Milo?
Now some of you might be saying – what is Milo? That is what I wondered the first time I heard about this ice cream flavor.
Milo is actually a drink that was developed by Nestle in Australia – but now you can find it all over the world.
It is a chocolate and malt powder that you can mix into water or milk and enjoy as a drink.
It's a spin off of the traditional hot chocolate.
The love for Milo has grown so much, that in some places you can actually find Milo as a premixed drink, breakfast cereal and snack bar.
So for all you malt lovers – you would love this drink and this ice cream!
Serving Tip
Serve this ice cream topped with chocolate sauce and malt balls.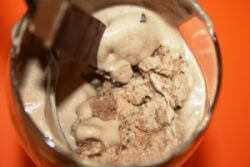 Choose from 2 Different Ice Cream Recipes
Below, you have 2 different ice cream recipes to choose from:
Philadelphia style: eggless, quick and easy: Jump to Recipe
Custard style: with eggs, a little extra creamy: Jump to Recipe
Milo Ice Cream
Philadelphia Style
Milo ice cream is the perfect treat for Milo lovers during the warm summer months.
Makes 1 1/2 quarts of ice cream.
Ingredients  
2

cups

whipping cream

1

cup

milk

2/3

cup

sugar

1/2

cup

Milo

handful

nuts

optional

handful

chocolate chips

optional
Instructions 
Combine whipping cream, milk, sugar, and Milo.

Pour into ice cream maker and process according to manufacturers directions.

Add nuts and chocolate chips during the last 5 minutes of churning.

Or if you don't have an ice cream maker you can try this method.

Combine whipping cream, milk, sugar, Milo, nuts, and chocolate chips in a small bowl.

Place small bowl filled with ice cream ingredients inside a bigger bowl filled with ice.

Whisk all the ingredients together until the mixture becomes a thick consistency (I used a hand held mixer to mix everything together – however – you're welcome to use a whisk if you'd rather – make sure you have the stamina for it).

Pour this thick mixture into a large resealable bag.

Place the bag in the freezer for an hour or two. (My freezer was full so I took my bag and dipped it in a bowl of ice and then I just left the bag in there. This method will take longer for you to get ice cream.)

Place the ice cream back in a bowl and use your mixer one more time before you serve it.

You can add additional toppings if you want or you can just eat it as it is.

Enjoy your delicious treat!
Milo Ice Cream Recipe
Custard Style
This easy Milo ice cream is a delicious frozen treat for Milo lovers.
Makes 1 1/2 quarts of ice cream.
Ingredients  
2

eggs

2/3

cup

sugar

1

cup

milk

2

cups

whipping cream

1/2

cup

Milo
Instructions 
Start by beating eggs and sugar with a whisk.

In a saucepan, heat milk over medium heat until milk begins to bubble.

Pour the hot milk over the beaten eggs and lightly whisk together.

Pour this egg mixture back into the saucepan.

Heat over medium heat until the mixture thickens and begins to stick to the back of your spoon.

Chill completely – this will take at least 3 hours.

Once milk has chilled, add whipping cream and combine.

Stir in Milo – combining well.

Pour mixture into your ice cream maker.

Churn for 25-30 minutes or according to manufacturer's instructions.

Enjoy your delicious ice cream.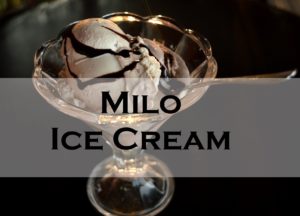 Go back to Ice Cream Recipe Main Page
Go to Serving-Ice-Cream.com Home Page from Milo Ice Cream Recipe