Look We Match Ice Cream Picture!
by Emily
(Chicago, IL)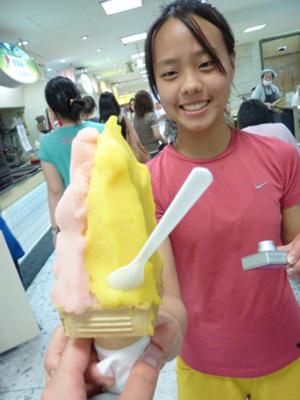 Here's a fun ice cream picture of a girl receiving her ice cream order. Funny! The colors of the ice cream match the colors of the outfit she is wearing! Too much fun!
"There is nothing like ice cream to cool down. After an afternoon of trekking around Taipei, Taiwan, we head down to a mall food court to get our hands on some delicious ice cream. Yumm mango and strawberry, what a great combination."
Delicious choice of ice cream flavors…and we're so glad you didn't clash with your cone!
Go back to Ice Cream Pictures Main Page
Go to Serving-Ice-Cream.com Home Page