Ice Cream Van Hire
Looking for ice cream van hire? Nothing could be more exciting than renting an ice cream van for your party! But do you know how to go about it?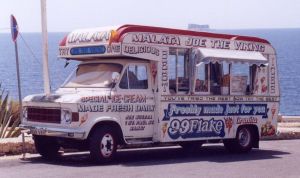 Ice Cream Van Hire: Is it For You?
Most events can be enhanced with the addition of snacks and serving ice cream is a sure way to help your guests enjoy their time. However, depending on the size of the guest list, you may not be up for the challenge of personally ordering a variety of ice cream, keeping a sticky serving station clean and organized, and ensuring that melted ice cream doesn't end up everywhere.
This may be a perfect occasion to consider renting an ice cream van. Renting an ice cream van can allow you to offer a wide variety of ice cream snacks and cones served by a professional staff member.
Ice cream vans can be used for a wide variety of occasions including birthday parties, school sporting events, and even corporate events. In one small town, a local business vendor rents an ice cream van two times every year and visits each of his business clients to offer them free ice cream; although this is relatively inexpensive, it certainly is a good marketing strategy to keep clients happy! Whether you choose to rent an ice cream van for a private party or for business, you won't regret your decision.
Ice Cream Van Hire: Factors to Consider
References?: As you plan your ice cream van hire, you may want to request some references from other customers who have used the ice cream van in a similar function or event. A quality organization will ensure that their vans are clean, the drivers are prompt, the servers are professional, and their supplies are adequate for the number of guests. The van hire company can help to ensure that you have a sufficient number of vans available, particularly if the hire is being made for a large event. In general, ice cream vans have a capacity to serve 100-150 ice cream treats every hour.
Environment Friendly?: For those concerned about the environment, many ice cream vans are eco-friendly and have separate systems to keep the ice cream cool without requiring the engine to be run for hours on end. With any large get-together, there will always be a wide range of food allergies so be sure to discuss options for dairy-free treats and special products for those with nut allergies.
Check out these companies in the UK.
When you find a professional hire company with good service and a variety of quality products, you'll know you made the right decision to go with an ice cream van for hire for your event.
Go back to Ice Cream Truck Main Page
Go to Serving-Ice-Cream.com Home Page from Ice Cream Van Hire