Ice Cream Trucks
Ice cream trucks, a distinctive icon of modern culture, are a part of a unique business that has given a number of generations pleasant summertime memories, delivering cold soft-serve ice cream, popsicles, and novelties directly to neighborhoods all over the United States and the world.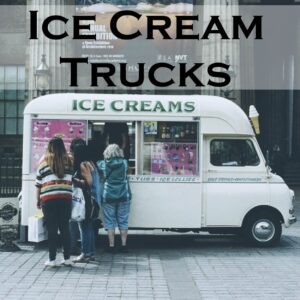 History
The concept of food delivery has existed for thousands of years, and the development of automotive technology in the early 20th century saw an explosion in the industry.
Trucks were modified to efficiently and safely transport milk, eggs, butter, beverages, meats, sandwiches, and, of course, ice cream, directly to houses. The traditional box-shaped van, painted white and decorated with colorful slogans and pictures, has for the most part retained its iconic design well into the 21st century.
The earliest ice cream trucks carried mostly actual frozen ice cream, working in a time when home freezers were a luxury and most families filled them with more critical food items.
As ice cream became more available in stores and easier to keep at home in larger freezers, many trucks changed their focus to novelty items like ice cream bars, popsicles, and other diverse frozen products.
Business Models
Whether a prospective ice cream truck driver chooses to franchise his small business through a large national company or start on his own, he must obtain the licenses and permits required for any food vending business.
Good planning is essential, and a large amount of research and patience is necessary while constructing routes in the driver's specific area. Overworking a small number of neighborhoods or covering an area already served by another truck will result in wasted time and reduced sales.
Franchising
In the 1950s, the ice cream truck industry began to change, with investors creating large companies that could more efficiently build the modified trucks and franchise them to local drivers. Mister Softee, Good Humor, and other companies have sent their trucks across the nation, and their distinctive musical jingles continue to be heard nearly any summer evening.
The franchising model offers a number of advantages, most notably the head start it gives individual drivers. The corporation generally provides drivers with education, a model budget, and a wealth of tips to help them make the most of their small business right away. Some companies even offer a business loan to help drivers with initial expenses until the endeavor becomes profitable.
Independent
An entrepreneur with a good business head and his own truck has a good chance of building his own successful ice cream truck business.
Once the initial steps of obtaining a foodservice license, purchasing a freezer and product, and constructing a business model have been completed, the vendor is ready to begin building his own route and schedule, researching the most profitable neighborhoods, parks, events, and hours of operation.
Given the ice cream truck's seasonal nature in most parts of the country, many owners have time for additional small business ideas as well.
Cultural Significance
The success of ice cream truck businesses over the years is not simply due to its convenient delivery of a great product. It has gained a powerful nostalgia over the course of several generations, and often a visit to the ice cream truck is more for the sake of parents and grandparents than children!
The characteristic songs, broadcast loudly by a roof-mounted horn, signal the beginning of summer as surely as the sound of crickets chirping, and remind many people of warm, humid summer evenings spent on the porch.
The ice cream truck's long-standing popularity has resulted in a wide variety of collectible models, toys, and decorations, which can be found in playrooms, backyards, and kitchens everywhere. Even actual vintage ice cream trucks often provide a restoration hobby for car enthusiasts.
Truck Designs
Due to the ice cream truck's child-centered design, a number of safety measures are usually attached to protect children while they are close to or in the street buying ice cream. Large red signs and/or flashing lights alert other drivers to the possible presence of children near the street, and the service window is always located on the curb side of the truck to reduce activity in the street itself.
In recent times, ice cream truck owners with a flair for creativity have modified their vehicles to attract some extra attention. Design ideas range anywhere from an elaborate giant "melting ice cream cone" on the roof to a unique floating ice cream truck that delivers treats to boaters on the Thames River in London.
With good word-of-mouth publicity and cell phone photos, these distinctive trucks often see a boost in attention and sales.
Go to Ice Cream Truck Page
Go to Serving-Ice-Cream.com Home Page