Ice Cream Scoops
Ice cream scoops. Where would we be without them? All of our kitchen spoons would be bent backward and we'd have to eat ice cream chunks instead of perfectly rounded balls of frozen goodness!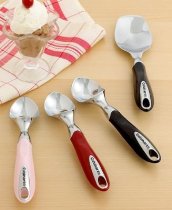 There are several different styles of scoops.
Some scoops merely resemble a spoon – but the shape is specifically designed to easily scoop out ice cream and allow it to fall neatly into a waiting bowl.
Other scoops have a little trigger that you can push to dispense ice cream after scooping.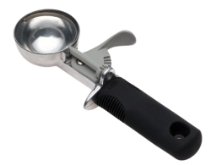 Another way to get the ice cream from point A (the container) to point B (your bowl!) is with an ice cream spade.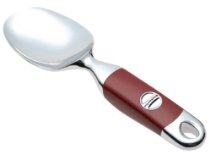 You'll find everything from Cuisinart scoops to Zyliss scoops. We've partnered with Amazon to bring you low priced, quality scoops for your home.
Go back to Ice Cream Gifts Main Page
Go to Serving-Ice-Cream.com Home Page from Ice Cream Scoops