Ice Cream Recipe Books
Ice cream recipe books are a great addition to any kitchen. A good recipe book will help you churn out delicious homemade ice cream, knowledgeably and easily.
Just beware, the pictures in these recipe books are tempting!
We've featured great recipe books below, but only 1 is best. Which one? Hmmmm….
Serving Ice Cream's Classic Collection of Ice Cream Recipes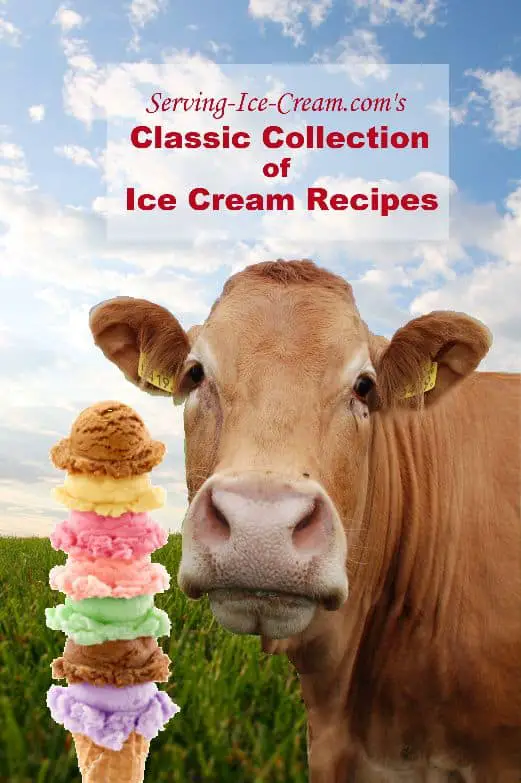 Our favorite ice cream recipe ebook…but then again, we're kinda biased. As one of the web's most trusted sources of ice cream recipes, we are proud to offer our very own ice cream recipe
ebook
– jam packed with all your favorite ice cream flavors and packaged up for you into one book you can call your own!
Perfect Scoop: Ice Creams, Sorbets, Granitas, and Sweet Accompaniments by David Lebovitz

This recipe book is considered by many THE recipe book for ice cream. It contains more than 200 recipes for ice cream, sorbets, granitas, and accompaniments. This book also contains helpful tips on making ice cream, choosing the
equipment
, and picking the best ingredients to make homemade ice cream. A lot of these recipes also contain serving ideas to turn your ice cream into a work of art! Best of all 
The Perfect Scoop
 has 45 full-color tantalizing photos.
Ben and Jerry's Homemade Ice Cream & Dessert Book

This Ben and Jerry recipe book contains the recipes from one of your favorite ice cream brands. In this book, you'll find the recipes for Ben & Jerry's eleven greatest hits…as well as a lot more. It contains over 90 authentic recipes. Your tastebuds will be tempted with the bright full-color illustrations…and well you eat your delicious homemade ice cream, you can read about the history of Ben and Jerry's from their early beginnings to the ice cream you hold in your hand!
These are just two examples of the many ice cream and frozen dessert recipe books available!
You can also find some great ice cream recipes right here on our site!
Go back to Ice Cream Gifts Main Page
Go to Serving-Ice-Cream.com Home Page from Ice Cream Recipe Books