Send an Ice Cream Party!
Every party should be an ice cream party! No matter where you go or who you're talking with, everyone loves ice cream.
A party centered around ice cream makes a perfect gift!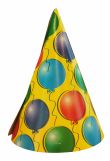 Ice cream parties are perfect to send to…
Your son or daughter at college
You've been throwing birthday parties for him all your life. Now he's at college and miles away. You still want to do something special for his big day. Here's a perfect solution! A party for him and his friends.
Your friend who's moved away
It's the way our culture is. People are mobile. Friends move away, but memories remain (probably even memories around a bowl full of ice cream). Send your friend a party of ice cream on her birthday or just to say "I'm thinking about you." Along with a special ice cream treat, consider making a handmade "Thinking of You" card
Your own home
Planning a party involves a lot more than just planning and preparing what everybody is going to eat! Make the party day and the days leading up to your party simpler by having the ice cream delivered to your door. Limit your stress and forget about the food until you hear the sound of your doorbell signaling the arrival of your ice cream.
Party Ideas
First, choose what type of ice cream party you want to send.
You have 2 options.
Simply choose one of the Gift baskets below or to your right.
Use the lists below as a checklist of the things you need to order to create your own gift basket.
Ice Cream Sundae Party

Ice cream
Toppings
Bowls
Spoons
Ice cream scoop

Ice Cream Float Party

Ice cream
Root Beer or Coke
Soda Mugs
Ice cream scoop

Ice Cream Cake Party

Ice cream cake with personalized message
Plates
Spoons
Napkins
Candles
Cutting/serving knife
Parties for young or old, near or far, winter or summer, birthday or graduation…a party with ice cream will be memorable!
Go back to Ice Cream Gifts Main Page
Go to Serving-Ice-Cream.com Home Page from Ice Cream Party