Ice Cream Mix
Ice cream mix – the time saver.
If you don't have much time to spend in the kitchen, but want the taste of homemade ice cream – then a package of your favorite flavor of ice cream is the perfect solution!

If you're a little scared about how your first batch of homemade ice cream will come out and want to try a recipe that would be hard to mess up, why not give a tried and true mixture a try in your ice cream maker?
If you're making a gift basket for a friend, why not give them an ice cream bowl and spoon with a package placed in the bowl? Or how about an ice cream maker with some mix attached to the box for them to try?

You can make many different flavors of ice cream with these pakages.
Here are some flavors you can try:
Or why not just browse our mixes for yourself?!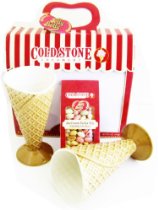 If you really want something special, you can try Jelly Belly' s Cold Stone® Ice Cream Parlor Gift Set.
This gift set includes:
2 ceramic ice cream cone dishes
5 oz bag of Cold Stone Ice Cream Parlor containing 5 flavors inspired by Cold Cold Stone® Creamery treats: Chocolate DevotionTM, Our Strawberry BlondeTM, Birthday Cake RemixTM, Apple Pie a la Cold Stone® and Mint Mint Chocolate Chocolate Chip®.
Go back to Ice Cream Gifts Main Page
Go to Serving-Ice-Cream.com Home Page