Ice Cream Dessert Recipe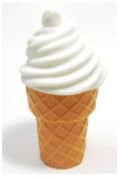 Ice Cream Contest
Serving-Ice-Cream.com is hosting an Ice Cream Dessert Recipe Contest!
Win a $25 Amazon Gift Card!
Contest Ends when 50 recipe submissions are accepted
Rules
Only quality, family friendly submissions will be accepted.
All submissions must be yours.
All entries must be made by a person 18 years or older
Winner must be an American.
You may make as many submissions as you like.
Serving-Ice-Cream reserves the right to reject any submission.
The recipe(s) you submit will stay "live" on www.Serving-Ice-Cream.com even after the contest is over for other visitors to benefit from!
Choosing a Winner
Recipes will be judged based on
…pleasing combination of ingredients
…clarity of directions and ease of preparation
…creativity
Prize
The winner will receive a $25 Amazon Gift Card!
So what are you waiting for?
Ice Cream Dessert Recipes
Submit your ice cream dessert recipe now! We'd love to see it!
Go to Ice Cream Dessert Recipe Main Page
Go to Serving-Ice-Cream.com Home Page from Ice Cream Dessert Recipe