Ice Cream Shops and More
Ice cream Shops – and other business where you can get delicious ice cream!
At Serving Ice Cream, we understand the needs of ice-cream lovers and work hard to create a list of some of the best ice-cream shops in town where are likely to find the exact flavor combination that you are looking for. When we talk about ice creams, we like to think outside the "cone!" We help you find out the best ice cream store and other businesses where you can get delicious ice cream to satisfy your taste buds.
No matter whether you need whipped topping, hot fudge, a scoop of vanilla ice cream, or nearly anything that goes into your sundae, our list contains various ice cream shops to fulfill all your desires. Browse through our list of ice cream shops and find out the one that is best suited for your needs. Our website contains so many shops that you will have to come back for more!
Search our website and head over to the ice cream store that suits you best. Furthermore, if you are interested in opening an ice cream store, we can provide helpful information regarding how to open an ice cream shop. For any other query, please fill the contact form present on our website and we will be obliged to clear the air.
Ice Cream Shops
United States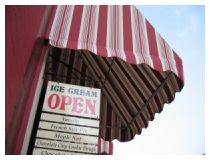 Arizona
Massachusetts
Michigan
Montana
Africa
Ice Cream Gifts
Go to Ice Cream Businesses Directory Main Page
Go to Serving-Ice-Cream.com Home Page from Ice Cream Shops