How to Make Mochi Ice Cream
Learn how to make mochi ice cream with these easy, step-by-step directions. You'll be enjoying this Japanese treat in no time!Follow these simple directions to make your own homemade mochi ice cream…a treat your family and friends will love…make sure to make enough – they'll want to come back for more!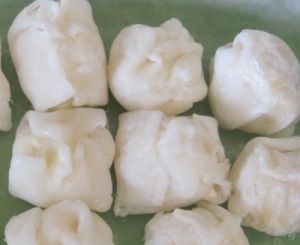 Ingredients:
1/3 cup sweet rice flour (Mochiko) – you'll find it in the Asian section of your grocery store
1/2 cup sugar
1/2 cup water
Cornstarch (about 1-2 cups, but use as much as you need) Ice cream – about 8-10 medium scoops (whatever flavor you want)
Step by Step Directions with Pictures on How to Make Mochi Ice Cream:
Prepare Your Work Surface
Spread a layer of cornstarch on a smooth work surface. Cover a rectangular area about 9 X 13 inches.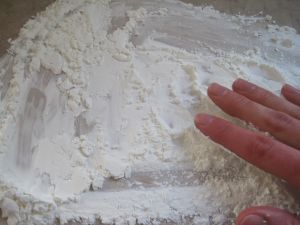 You'll need to be generous with your cornstarch layer so that you won't have problems with the mochi sticking to your counter top.
Make the Dough for Japanese Mochi Ice Cream
Place the sweet rice flour (mochiko), in a microwaveable bowl.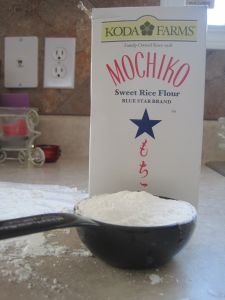 Add the water slowly, stirring as you pour it in. Continue to mix until it is well blended.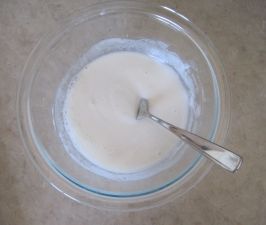 Add sugar to the mixture, then stir together well.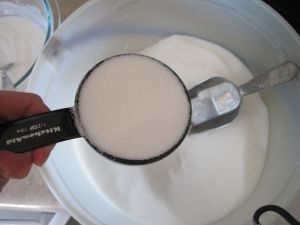 With clear plastic wrap, cover the bowl. Be sure to leave a small gap so that air can pass through as the Japanese mochi is heated.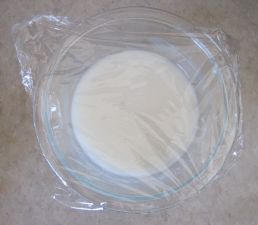 In the microwave, cook dough for 2 minutes on medium power.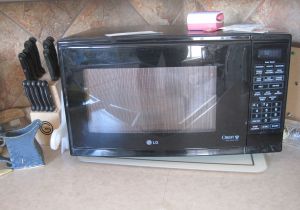 Remove from microwave, and stir well. Be sure to break up any clumps. Then, return to microwave.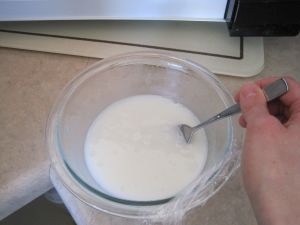 On medium heat, microwave about another minute until done. It's done when it's not runny anymore. It should be smooth, shiny, and sticky, able to holding itself together.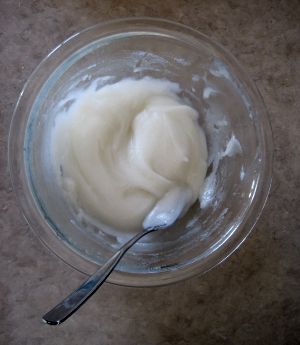 How to Make Mochi Ice Cream: Prepare the Dough
Pour the dough onto the prepared cornstarch covered work surface.
Using a knife or the back of a spoon, spread the dough over the cornstarch. Try to get it as flat as possible.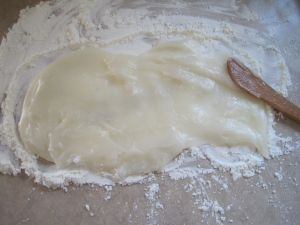 Cover the top of the dough with cornstarch (and to make it easier on you – cover your hands with cornstarch as well).
The dough is still hot…so be careful!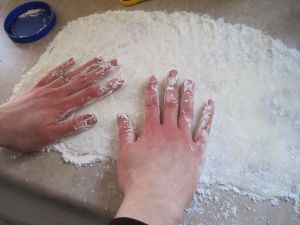 Turn the dough over.
Cover this side with cornstarch as well.
Stretch and push the dough until it is smooth and flat and about 3 millimeters thin.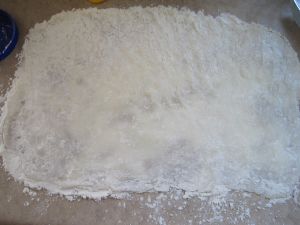 If the dough isn't cool, let it to cool for a while.
Choose how big you want your mochi ice cream balls. Use a large rimmed glass for smaller balls. Use a small bowl for larger balls.
Push your glass or bowl into the dough to cut it into round circles.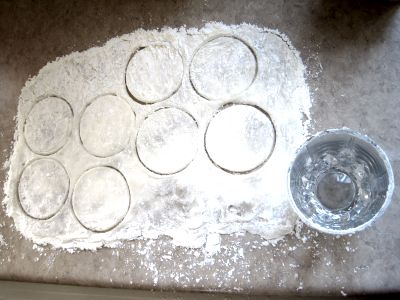 You can fill with ice cream immediately or for easy handling, you can freeze the dough first before filling with ice cream.
To freeze, dust several pieces of plastic wrap with cornstarch.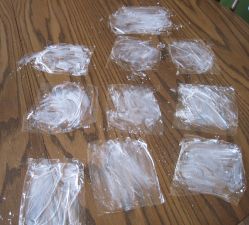 Place one round on a small plate. Cover with plastic wrap dusted in cornstarch. Place another round on top of the plastic wrap. Continue until all rounds are gone.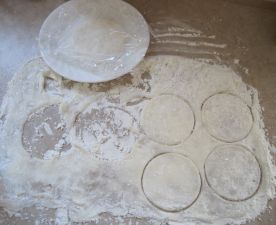 Place plate in freezer until you're ready to assemble the mochi ice cream balls.
How to Make Mochi Ice Cream Balls
Lay a round piece of dough on a flat work surface.
Place a round scoop of ice cream in the center.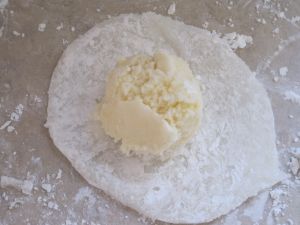 Fold the edges of the dough up over the ice cream to cover the ice cream and form a ball.
If the dough is not sticking, use a little bit of water like glue to keep the dough in place.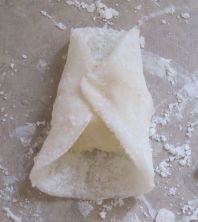 Helpful Hint: After you're done making a mochi ice cream ball, place it immediately in a container in the freezer. This will prevent it from melting while you work on the others.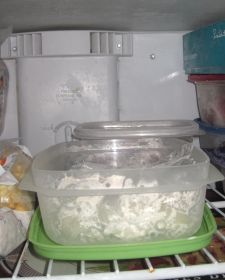 Also, if you're having trouble with your ice cream melting as you make the mochi, keep the ice cream in the freezer and scoop it out from the freezer on to the mochi round.
Freeze until you're ready to serve.
Now you're ready to eat and enjoy! If your ice cream is hard, you may want to let it thaw a little before serving.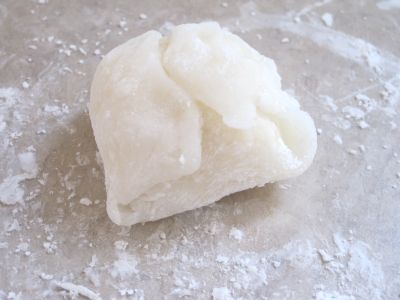 Go back to Mochi Ice Cream Recipe Main Page
Go to Serving-Ice-Cream.com Home Page from How to Make Mochi Ice Cream