French Vanilla Ice Cream Recipe
I needed a French Vanilla ice cream recipe.
I can remember the first time I was introduced to French Vanilla ice cream as a kid.
Up until that point, I had only ever enjoyed regular vanilla ice cream. I had thought that was ok…good, but kinda boring.
Vanilla is vanilla right? Nope!
French Vanilla ice cream was placed before me and blew my mind.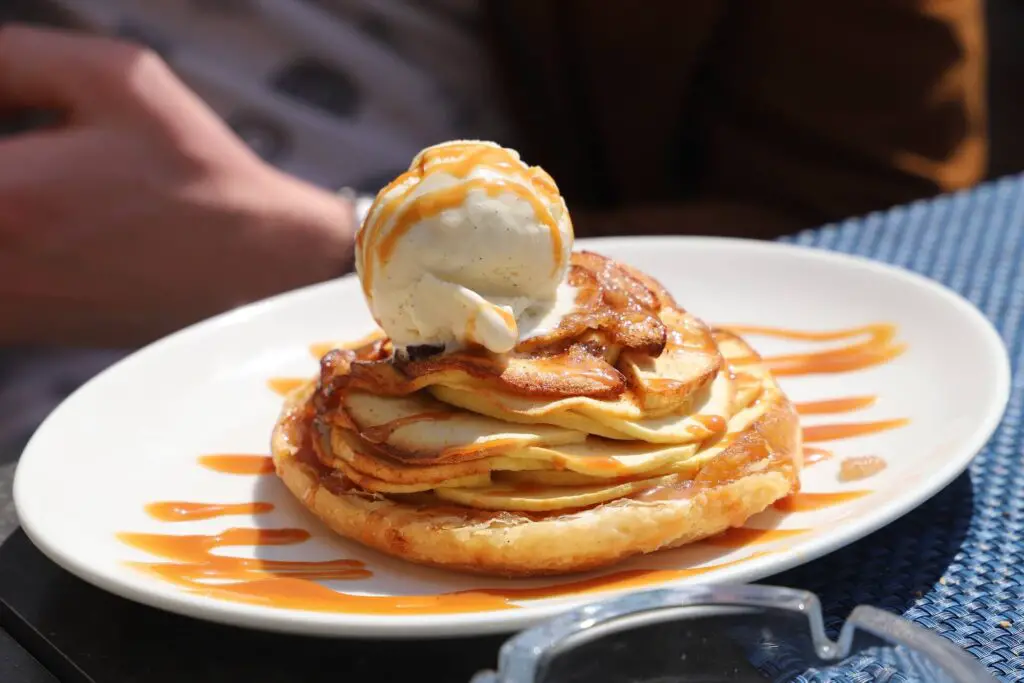 The ice cream was yellower than I was used to and there were little black flecks in it everywhere.
To me the fancy appearance seemed to go with the name – after all wasn't everything French fancy?!
Then I tasted the ice cream. It was delicious and definitely better than regular vanilla.
My young mind couldn't wrap around the reasons why I liked it better.
But I did.
And I was hooked.
What is French Vanilla Ice Cream
So what is it that makes French Vanilla SO MUCH BETTER than regular vanilla ice cream?
It's creamier, richer, and more delicious…the answer is in the ingredients.
French Vanilla ice cream has egg yolks in it.
And egg yolks is the key.
It is a custard style ice cream.
Why Add Egg Yolks to the Ice Cream
Egg yolks add the beautiful yellow color to the ice cream, but they are added to the ice cream base for a more profound reason than color.
The egg yolks make the ice cream more rich. This means that the ice cream is smoother, softer, and creamier.
How to Separate the Egg Yolk from the White
Since the use of egg yolks in this ice cream distinguishes it from regular vanilla ice cream, you'll need to know how to separate a the yolk from the white.
If you've never separated the yolk from the white – no worries. You've got this.
Grab a bowl to collect the egg whites and another bowl to collect the egg yolks.
The method works because the yolk stays together since it is bundled together in a thin sac and the whites simply want to flow away from the yolk on their own.
Carefully crack the egg in the center, but don't open it.
Over your egg white bowl, carefully open the egg a little bit with your thumbs. Let any egg white that wants to come out pour into your bowl.
Over your egg white bowl, try to pour the egg yolk from one half of your egg shell to the other half of the egg shell.
This movement will cause the egg white to fall away from the yolk and into your bowl.
Continue pouring back and forth until only the yolk remains. Be careful of the broken edges of the egg shell. They are sharp and can break the thin covering that keeps the yolk together.
Collect egg yolks in a separate bowl.
If you mess up, no worries. If it's just a little bit of yolk or white in the wrong bowl – it won't matter.
If you totally mess up – just try again with another egg.
Different Kinds of Vanilla Flavoring
Ok. So for this recipe you are going to need some sort of vanilla flavoring.
There are several different options you can use.
Vanilla bean is what I used in this recipe, but you can use whatever you feel comfortable with or whatever you have on hand.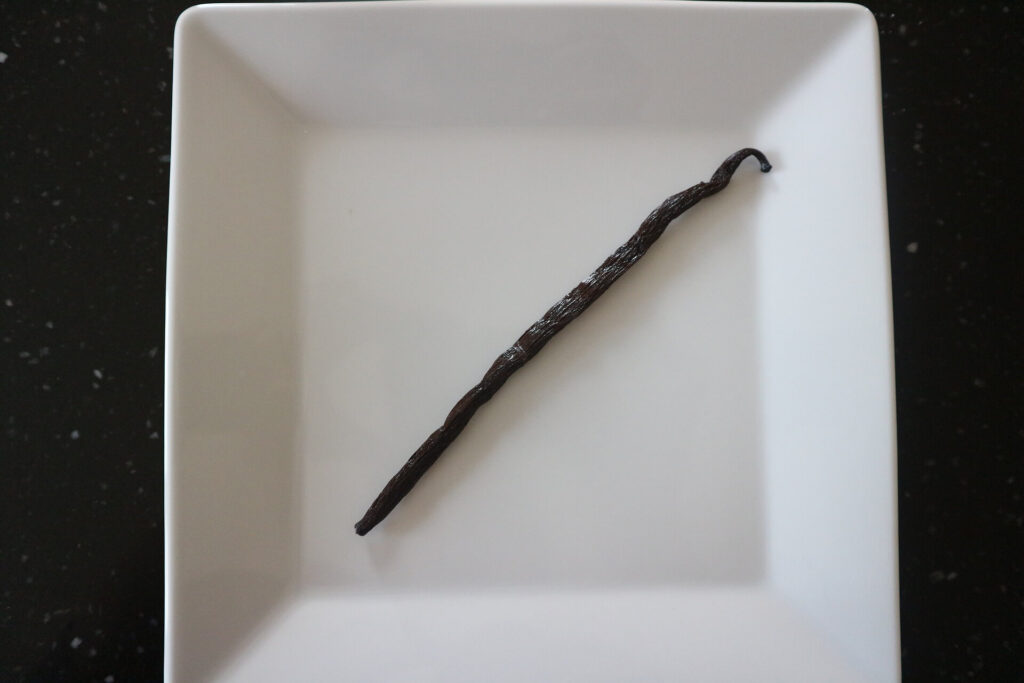 Vanilla Extract
Yes, you can use vanilla extract. One vanilla bean is equal to about one tablespoon of vanilla extract.
Vanilla extract is nice because most people already have it on hand. It is also super easy and convenient to use.
However, when you use vanilla extract in place of the vanilla bean, you will not have the classy black vanilla seeds throughout your ice cream.
Vanilla Paste
Vanilla paste is another great option for vanilla flavoring.
Like the vanilla extract, it is easy and convenient to use, as it comes in the container ready to use.
Vanilla paste is better than extract because when you add it to your recipe, you will have those beautiful black vanilla seed flecks throughout your ice cream.
There are varying concentrations of vanilla paste, so simply refer to the package and use what is equivalent to 1 vanilla bean for this recipe
Vanilla Bean
When it comes to vanilla, you can't get closer to the natural source than a vanilla bean.
Preparing a vanilla pod is a little more time consuming than simply measuring the correct amount out from a container (like vanilla extract or paste).
You will need to slice the vanilla bean lengthwise, scoop out the seeds, and let both infuse all their flavorful goodness into the ice cream base…but it's worth the effort and kind of fun to do too.
If you've never used a vanilla bean before, it takes a little more effort, but you really can't mess it up.
This recipe calls for 1 vanilla bean.
Serving Tip
French vanilla ice cream is delicious and beautiful by itself. It definitely classifies as a "stand alone ice cream." It pairs well with pies, fruit, and chocolate.
French Vanilla Ice Cream
A step up from regular vanilla, this ice cream is creamy and classy.
Ingredients  
3/4

cup

sugar

divided

4

egg yolks

1½

cups

whole milk

2

vanilla bean

vanilla paste or extract can be used, see notes

1½

cups

whipping cream
Instructions 
Whisk 1/4 cup sugar and egg yolks together in a heat proof bowl. Mix until the color of the yolks lighten. Set aside.

In saucepan, mix together milk, sugar.

Split the vanilla beans lengthwise and then seed, adding both the pods and the seeds to the saucepan.

Over medium heat, warm milk until it just begins to bubble on the edges.

While whisking, carefully pour warmed milk over eggs.

Continue to whisk until well mixed.

Pour mixture back into saucepan and slowly reheat, stirring constantly until the ice cream base begins to coat the back of your spoon. Be careful not to boil

Remove saucepan from heat and strain out vanilla pod.

Once somewhat cooled, stir in whipping cream.

Cover your ice cream base by pushing plastic wrap right against the top of the ice cream base so the base and the plastic are touching.

Chill completely in fridge (6-8 hours or overnight).

Transfer mixture into ice cream maker and churn about 25-30 minutes or according to manufacturer's instructions.
Notes
If you don't have a vanilla bean, you can substitute out another vanilla product.
1 vanilla pod is equal to 1 tbsp of vanilla extract or 1 tbsp of vanilla paste.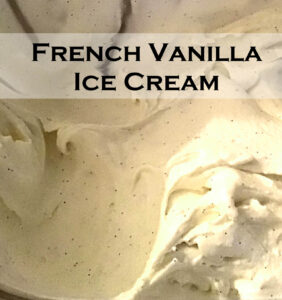 Go back to Ice Cream Recipes Main Page
Go to Serving-Ice-Cream.com Home Page from French Vanilla Ice Cream Recipe