Dippin Dots Ice Cream Maker
A Dippin Dots ice cream maker brings the fun of frozen ice cream dots to your home – and you and your kids get to make them.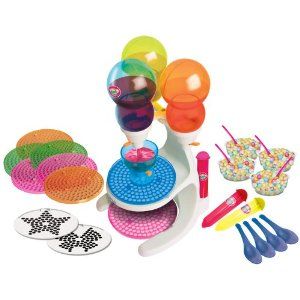 A Dippin' Dots ice cream treat is one of the most readily recognizable ice cream treats available today.
No other frozen treat comes in any form that remotely resembles Dippin' Dots. Comprised of hundreds of tiny ice cream spheres, Dippin' Dots looks more like a bowl of multi-colored pellets than a delicious frozen treat.
Given the unique nature of Dippin' Dots, it would be easy to assume that there is not a Dippin' Dots ice cream maker available for consumer purchase. That assumption, however, would be false.
Although lacking the liquid nitrogen freezing aspect of large-scale Dippin' Dots ice cream makers, Dippin' Dots homemade ice cream makers are available to the public.
How It Works
Without the flash freezing element of the Dippin' Dots manufacturing process, the Dippin' Dots homemade ice cream maker has to rely on other methods to produce the signature ice cream spheres.
Specifically, homemade Dippin' Dots come from pop pens and templates to make the frozen dots.
How To Do It:
The Dippin Dots ice cream maker works quite simply.
First, mix the ingredients for your frozen treat.
One of the benefits of this homemade ice cream maker is the flexibility it offers in making ice creams in virtually any flavor.
Just pick a favorite drink and it becomes a favorite ice cream flavor.
Once the ingredients are combined, the mix is poured into one of the three included dispensers.
One, two, or three of the dispensers can be used to make a corresponding number of flavors as the mixes are poured from the dispenser onto a freezer tray, which is then frozen for two hours.
Alternately, you can use the pop pens to, well, pop mixes onto the provided templates for fun Dippin' Dot patterns.
Ice Cream Maker Details:
Two pop pens for freezing
Two freezing templates
Three dispensers for multiple flavors dispensing
Six freezer trays to ensure that you always have enough Dippin' Dots on hand
Four bowls and four spoons for the final and most enjoyable stage of the process
Dippin Dots Ice Cream Maker
With the availability of the Dippin' Dots ice cream maker, you can enjoy this unique treat in the comfort of your own home!
A little info on how the company manufactures their little ice cream dots of the future….
Things start out basically normal in the Dippin' Dots factory. High quality dairy ingredients are mixed in perfect proportions just like any other ice cream.
The next step is the difference, however.
Rather than simply freezing in a traditional freezer, Dippin' Dots are flash frozen at more than 300 degrees below zero Fahrenheit by means of liquid nitrogen.
Go back to Ice Cream Maker Main Page
Go to Serving-Ice-Cream.com Home Page from Dippin Dots Ice Cream Maker