Cartoon Ice Cream Truck
A cartoon ice cream truck. Just what are you looking for? We can help point you in the right direction.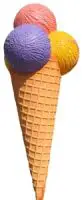 This article is about using images for marketing and attracting customers to your ice cream truck.
If you're looking for an image, check out ice cream clip art.
If you're looking for entertainment, check out these ice cream truck comic strips.
Now onto using images on your ice cream truck.
Popular Cartoon Ice Cream Truck Designs
While many ice cream trucks earn points for originality there are a number of ice cream truck designs which tend to recur due to widespread popularity.
Ice Cream Cones – Traditional and classy, ice cream cones may be drawn on the side of the truck or paraded as a massive trophy on the rooftop.
More modern designs sometimes depict a melting ice cone, adding drama with soupy cream dripping down the sides of the truck.
Popular Cartoon Characters – Well known characters like Mickey Mouse or Donald Duck often find their way onto ice cream trucks. Children seeing the pictures are motivated to come closer to the colorful vehicle.
Menus – A practical ice cream truck drawing will include images of the confections offered within. Who can resist a chocolate ice cream cone? A push-up pop? A banana split? Passers-by are motivated to flag down the truck as they view its moving menu. Ice Cream Truck Decals are good for this.
Designer Ice Cream Trucks
Some ice cream truck drivers choose to turn their vehicle into a work of art – and the truck itself becomes the canvas for cartooning.
Across the United States you can see a wide variety of elaborately decorated rolling ice cream shops, featuring everything from massive melting ice cream cones to professional-grade graffiti.
If you want your ice cream truck to make a statement, creativity is your best friend.
A cartoon ice cream truck will certainly turn a lot of heads – and likely bring in business!
Whether you are looking to decorate your home with an ice cream truck drawing or considering a new paint job for your own vehicle, a carefully decorated ice cream truck will make for a tantalizing ride!
Go back to Ice Cream Truck Main Page
Go to Serving-Ice-Cream.com Home Page from Cartoon Ice Cream Truck