Carma carma carma carmeleon
by Heidi Todd
(Ranchester, WY )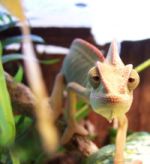 A chocolate and mint sundae with sprinkles, chocolate graham crackers, and caramel sauce…all arranged to look like a chameleon!
A Carmeleon ice cream sundae not only tastes great and looks great…but it's also a whole lot of fun for kids to create!
What You'll Need
Chocolate Ice Cream
Green Mint Ice Cream
Yellow and White Sprinkles
Chocolate Graham Crackers
Caramel Dessert Sauce
What You'll Need to Do
Place a large scoop of chocolate ice cream and a large scoop of green mint ice cream in your bowl.
Swirl the two ice creams together and roughly shape into the body of a lizard.
Sprinkle with yellow and white sprinkles.
Arrange chocolate graham crackers like a spine up on side of the ice cream.
Pour caramel desert sauce around the creature like a moat.
Add a spoon and enjoy!!!
Go back to Ice Cream Sundae Main Page