Sandy's Sweet Sundae
by Sandy U
(Arkansas, USA)
A Cinnabon ice cream sundae with nuts, cinnamon sugar, sweet vanilla topping, and caramel.
If you love the taste of Cinnabon's as well as the gooey-ness of this treat…you'll love Sandy's Sweet Sundae!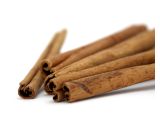 What You'll Need
Cinnabon Ice Cream
Homemade Vanilla Ice Cream
Crushed Nuts (ex. Pecans)
Cinnamon Sugar
Sweet Vanilla Topping (or if you don't have sweet vanilla topping – just liquify some vanilla icing)
Caramel Topping
What You'll Need to Do
Mix some Cinnabon flavor ice cream with a little bit of homemade vanilla ice cream in an ice cream bowl.
Sprinkle the top of the ice cream with some crushed nuts such as pecans.
Sprinkle with some cinnamon sugar.
Top with some sweet vanilla topping (if you don't have sweet vanilla topping, you can liquify some vanilla icing and drizzle it over the ice cream sundae.
Finally, drizzle some caramel topping over your ice cream sundae and enjoy!
– nom nom!
Go back to Ice Cream Sundae Main Page
Go to Serving-Ice-Cream.com Home page