Unique Ice Cream Business
Flair for Success
Whether you're starting an ice cream business or already have one, you need to differentiate yourself from other ice cream businesses.
If there's no difference between you and the competition, most people will come to you only when it's convenient for them.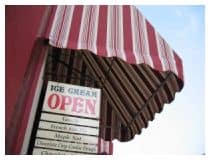 Not a good plan! You want a loyal base of customers who are not willing to settle for any other service. They go out of their way to get their frozen treats from you. Best of all, they rave about your business and recommend it to friends, school organizations, and sports teams.
Sound too good to be true? With a quality product and a little creativity and personality, it's possible.
Think about your favorite places to do business, each one of those places has differentiated themselves. It's their uniqueness that keeps drawing you back…
…the cafe that provides a relaxing coffee-shop atmosphere.
…the grocery store that offers a wide variety of delicious foods from around the world.
…the dentist office that sports enough toys in the lobby to keep your kids occupied for hours and even excited to return.
These businesses don't just provide a product – they provide an experience – an experience you want to re-live.
You must provide a unique, fulfilling experience for your customers. If you do this, you'll earn their lifetime loyalty.
How will you differentiate your business? Ask yourself 2 simple questions.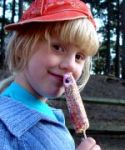 Who are Your Customers?
Who is your dream customer? What type of person do you want to attract to your business? Are there enough people of that type in your community to support a business?
Here are some potential target customer bases. It's not exhaustive – just enough to get your imagination churning.
Grade school children
Kids on sports teams
"Cool" teenagers
Studying college students
Loving families
Business men
Retired folks
What is Your Customer Looking For?
Once you've narrowed down your target customer and are confident that your community has a sufficient number of those customers, then it is time to figure out what makes your customer tick.
The way you differentiate your business should focus on your target group, but not be so narrow that it turns off other customers not in that group.
You can differentiate in at least 4 different ways: the atmosphere you create, the products you sell, the services you offer, or the theme you incorporate throughout.
To get your creative juices flowing, here are some ideas on how to differentiate your business according to your customer's preferences.
Atmosphere
Old-Fashioned Country Store
Classy coffee shop/ice cream parlor
60s Diner
Garden Party
Hawaiian luau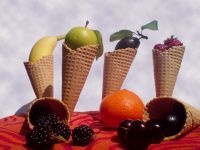 Products
Healthy
International items from around the world
Exclusively chocolate
Fresh fruit
Services
Allow customers to choose "mix-ins" that you stir into the ice cream of their choice
Allow customers to add their own toppings
Provide coloring sheets and crayons
Provide small board games to be played during customer's visit
Top every purchase with a cherry or a chocolate (customer's choice)
Themes
Super hero
Professional sports team
Cartoon character
Wild animal
However you decide to make your business unique – make sure that you can execute it well without making it look forced or corny.
No matter how well you work at making your business unique, it will never truly stand out from the crowd unless you have a group of individuals who work together like a team. A unified team will help your business run smoothly and deliver a message of joy and care to your customers.
Differentiate yourself from the competition. Whether it's a major difference or just a minor one – you must set your ice cream business apart from others.
Remember the focus must be on your customers – create for them an enjoyable, memorable experience.
Go back to Ice Cream Business Main Page
Go to Serving-Ice-Cream.com Home Page from Unique Ice Cream Business