Ice Cream Pancakes Picture
Free ice cream pancakes pictures! If you've never had pancakes topped with ice cream before, hopefully this ice cream pancakes picture will inspire you to try this tasty combination.
Ice cream pancakes make a wonderful dessert at the end of a classy meal…and I'm sure if you're looking for an excuse to have frozen cream for breakfast – you may have found the perfect reason with ice cream and pancakes!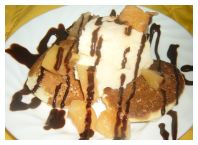 The combination pictured here is Cantaloupe Ice Cream placed on top of fresh, hot buttermilk pancakes and drizzled with chocolate syrup! Yum! A delicious combination!
Go back to Ice Cream Pictures Main Page
Go to Serving-Ice-Cream.com Home Page