Ice Cream Flavoring
The Perfect Taste
Ice cream flavoring. Is it important? It is if you want to hear those famous words: "Yum! This tastes soooo good!" Taste will make or break your homemade ice cream.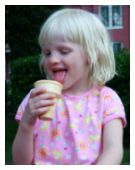 The good news is that with the right flavoring, you can create that perfect ice cream flavor right in your own home!
Vanilla is the most popular flavor, but if you're feeling adventurous there are many other interesting flavors to excite your taste buds and wow your friends.
Why Use Flavorings?
Flavorings are easy to use. In order to produce the desired taste, you just have to add one ingredient. This reduces prep time and mess and helps to ensure consistent results.
Flavorings are readily available on-line and come in innumerable different flavors.
Making the Perfect Flavor
To get the best flavor, it's important to use quality flavorings. You can use either natural or imitation flavorings.
Natural flavorings are easy to use and produce the best taste. If you add too much flavoring, the flavor will be intense but won't create a bad taste.
Imitation flavorings are less expensive than natural flavorings and easy to find. They can also produce a pleasing taste, but you must be careful how you use them! If you add too much flavoring, rather than creating an intense flavor – it can produce a bad taste that makes even the best ice creams taste bad!
Most people prefer ice cream with a mild flavor. Ice cream with an intense flavor is just not very good.
But don't worry – adding flavoring is as easy as adding vanilla to a recipe. Flavorings usually come with instructions on how much you need to put into your batch of homemade ice cream.
Here's a small sampling of flavorings that are available:
Blackberry

Black Raspberry
Banana Coconut
Butter Pecan
Maple Walnut
Carmel
Amaretti
Mint Chocolate
Mocha
Fudge
The flavors you can create are endless…it's a simple way to make fantastic ice cream! What more could you ask for?
Another way of creating ice cream flavors is by adding mix-ins. You can learn about ice cream mix-ins here.
By Jenn Fraiser
Go back to Ice Cream at Home Main Page
Go to Serving-Ice-Cream.com Home Page from Ice Cream Flavoring