Dog Ice Cream
Treat Your Best Friend!
Give my dog ice cream? As you quietly savor every lick of your refreshing ice cream cone, your dog eyes the treat longingly.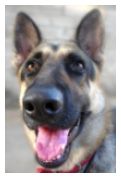 Your dog is ready to clean up any ice cream drips that might happen to fall off your cone and on to the ground!
Dogs won't pass up an opportunity to gobble down some ice cream…but most dogs are lactose intolerant! As a dog gets older their bodies stop making lactase so they can't break down milk sugar (lactose). The good news is there is ice cream designed specifically for dogs.
A little bit of ice cream may be just the thing your dog needs to make the summer temperatures more bearable, especially if he's an outside dog.
If you're looking for the perfect tantalizing treat to use in your dog training sessions – dog ice cream may be the trick to get your dog doing tricks!
Here are some ice cream treats your dog will be sure to love!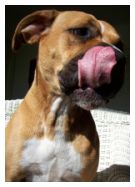 Frosty Paws Frozen Treats
This is a soy based ice cream that contains no dairy. It's fortified with protein, vitamins, and minerals – making this a healthy treat for dogs!
Meltdown Cones Dog Treats
This delicious treat is a waffle cone loaded with yogurt and then topped with carob sauce. It's a delicious double dip treat…for – sorry – double the drool!
POOCH PASSIONS Freeze-Dried Ice Cream Treats
This popular ice cream treat comes in either vanilla or peanut butter flavor. It is a good source of vitamin A and calcium. Since this is a freeze-dried ice cream treat, it does not require refrigeration.
Chilly Cone Canvas Ice Cream
This isn't an edible ice cream – but it's a durable ice cream cone shaped toy. It helps keep your dog cool while promoting healthy teeth and gums. This non-toxic sponge-like toy is designed to absorb water. The toy can then be frozen. Once frozen, the toy is fun for dogs to chew.
As you cool off with a dish of ice cream, now your best friend – your dog – can join you with his own dog ice cream!
Go back to Ice Cream at Home Main Page
Go to Serving-Ice-Cream.com Home Page