Big Dipper Ice Cream
by Big Dipper Ice Cream
(Missoula, Montana )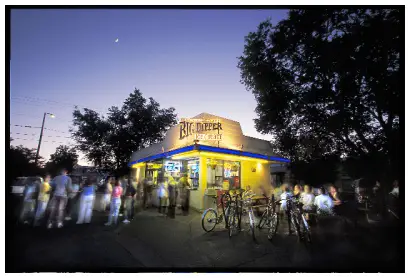 Big Dipper Ice Cream, located on the corner of 5th and Higgins in Missoula, Montana has the feel of a 1950s roadside ice cream stand…with a modern flair! It is a favorite ice cream hot spot for many locals!
Big Dipper's Ice Cream
Big Dipper is homemade right here at our store in Missoula. We have been around for almost 14 years (as of 2008) and we make almost 800 gallons a week in the summertime!
We make the standard flavors like vanilla, chocolate and strawberry, but we also make cardamom, green tea, mexican chocolate and other very unique flavors which makes us stand out.
The ice cream has 15% butterfat, so it is very rich and creamy.
We try to incorporate as many local things as we can in our ice cream and desserts such as Posh Chocolat brownies for sundaes, Tipu's Chai for our Chai shakes and Butterfly Herbs espresso for our quake shakes to name a few.
Ice cream is available in cones (sugar, plain and waffle) or in dishes. We also have shakes, sundaes, floats and other ice cream concoctions.
Big Dipper's Atmosphere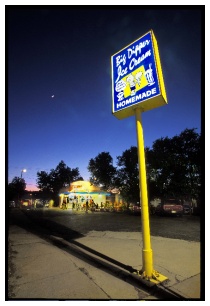 Big Dipper has the feel of a 
1950's roadside ice cream stand with a modern flair
 to it.
The atmosphere comes from having an old building (formerly a gas station in the 60's) and from the eclectic menu and the young college kids working for us.
Employees are always enjoying themselves scooping ice cream while listening to their favorite music.
Every summer we have Christmas in July (on the 25th). We have Santa come down and people can have their pictures taken with him. We roll out all of our Christmas flavors for this event and raise money for a local charity.
Most of our business is walk up, but there is room to order inside during the winter months.
In the summers, you will notice long lines and lots of people hanging out and visiting with friends while enjoying ice cream. We're located on the Hip Strip so we like to consider ourselves one of the many "cool" businesses in our neighborhood. We also have a brewery, french bakery, record store, skateboard shop, bookstore and pizza place all within a stones throw of Big Dipper.
Big Dipper Ice Cream is Unique
Big Dipper is unique in that we make our own ice cream and not only serve it at the store, but sell it in bulk to almost 50 restaurants and coffee shops in Northwest Montana. We have the ability to make any flavor, so we often make special flavors for chefs that need something different on their menu.
Big Dipper's Awards (as of 2008)
Big Dipper has been voted "Best Ice Cream" by the Missoula Independent for the past 13 years. We've also received this award from the Missoulian since they started the "best of" awards. We have also been featured in Food and Wine Magazine, Budget Travel, Horizon Airlines Magazine, Distinctly Montana Magazine, and most recently National Geographic Traveler.
Location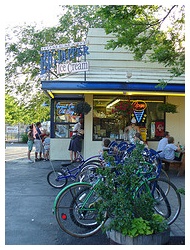 We are located on the 
corner of 5th and Higgins in Missoula, Montana
 (631 South Higgins Ave., Missoula, MT). You can also check out our website at 
www.bigdippericecream.com
.
Attractions Close to Big Dipper Ice Cream
Big Dipper is located across the river from the heart of downtown Missoula.
We are just a couple blocks from the river trail which will bring you to several great parks near downtown.
The University of Montana is just a few blocks away and we are walking distance to all the great shops and restaurants in downtown Missoula.
Be sure to check out www.missouladowntown.com if you are coming this way.
Big Dipper Ice Cream
631 South Higgins Ave.
Missoula, MT 59801
406.543.5722
www.bigdippericecream.com
Go back to Best Places to Get Ice Cream Main Page