Boma Ice Cream Centre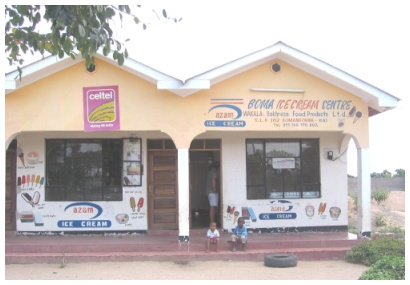 Boma Ice Cream Centre, located in Boma'Ngombe Village, Tanzania, allows you to enjoy a beautiful view of Mount Kilimanjara while you enjoy one of the only ice creams made in Tanzania!
Boma's Ice Cream
Boma Ice Cream Centre serves Azam ice cream. It's actually one of the only ice creams made within Tanzania.
It is not imported from another country and, as a local product, the quality is excellent.
Ice cream is sold in tubs or on sticks. You can get large 1 or 2 litre tubs or small 125 ml to 250 ml tubs. There are a lot of different flavors you can choose from…vanilla, chocolate, caramel, pecan nut, strawberry, the list goes on!
You can also buy ice cream on sticks. This ice cream treat is coated with chocolate & nuts or just chocolate.
Boma Ice Cream Centre's Atmosphere
The Boma Ice Cream Centre has has an authentic African feel to it. It is located right off a main road – but it's set a little back from this road.
This ice cream shop is surrounded by dirt and African trees. You'll usually find a few children playing outside the shop…as well as a few chickens scratching in the dirt!
The shop is situated in a fairly remote area in the village of Boma'Ngombe.
Boma Ice Cream Centre is Unique
There's not too many ice cream shops that can boast a location in the area surrounding Mt. Kilimanjaro – Africa's highest mountain! In fact, if you visit this shop on a clear day, you'll have a clear view of Kilimanjaro's snow covered peak as you enjoy your ice cream outside the shop! It's location is truly unique!
Location
The Boma Ice Cream Cenre is located Boma'Ngombe Village, West Kilimanjaro Area, Tanzania, East Africa.
Attractions Close to Boma Ice Cream Shop
Boma'Ngombe Village is a typical African village. After enjoying your ice cream, you can spend some time in the little local trading stores, watch people walking their goats and cows through the town streets, watch men pulling hand drawn wooden 'kokaten' carts laden high with anything from bananas to furniture – and on a clear day, you can see Kilimanjaro's snow covered peak from outside the shop!
If you'd like to learn more about life in Tanzania, be sure to check out Lynda's blog Food, Fun, and Farm Life in East Africa!
Go back to Best Places to Get Ice Cream Main Page
Go to Serving-Ice-Cream.com Home Page