Tropical Splash
by Anonymous
A Coconut ice cream sundae with mango sauce, banana chunks, and pistachio nuts.
For a little taste of the tropics, make this ice cream sundae for your family and friends. It's a great blend of tropical flavors in a one cool, refreshing ice cream dish. Perfect for a Hawaiian or other tropical themed party.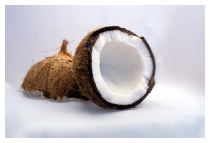 What You'll Need
Coconut Ice Cream
Mango Sauce
Banana Chunks
Pistachio Nuts
What You'll Need to Do
Place Coconut ice cream in your bowl.
Smother ice cream with mango sauce.
Place banana chunks on top.
Sprinkle with pistachio nuts.
Decorate with a small dessert umbrella if you're serving this at a tropical or Hawaiian themed party!
Go back to Ice Cream Sundae Main Page
Go to Serving-Ice-Cream.com Home Page