Toy Ice Cream Truck
Would you like an affordable, authentic toy ice cream truck?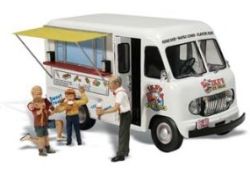 These great toys come in all sorts of different sizes with a host of different designs and capabilities.
Toy cars are a popular gift option for children of all ages.
Whether your little one enjoys matchbox cars or larger-scale models, an ice cream truck toy will make a fantastic addition to any collection.
Types of Ice Cream Truck Toys Available
Ice cream trucks come in a wide variety of types and styles.
Whether you are looking for a developmental option or a ride-along truck the world of ice cream trucks is vast and fun.
Do your boys love to create massive traffic jams across your living room floor? Miniature cars are the perfect size for collecting and for mock collisions.
Younger children typically require larger-scale toys for safety reasons. Ice cream truck toys are available for every age and developmental level.
For children who love to move, a ride-on ice cream truck offers both fun and physical activity.
Toy Ice Cream Truck Brands
Ice Cream trucks are available from a wide variety of toy manufacturers. These are just a few of the most popular brands on the market.
Manufactured by Mattel, the Hot Wheels ice cream truck is among the most popular. It is matchbox size and is part of a massive collection of similarly sized hot wheels vehicles.
A ride-on ice cream truck is available from Fisher Price, as is a feminine miniature ice cream truck set.
Tonka trucks are popular for their durable build and colorful exterior. Whether you are looking for miniature cars or larger models, you will find a variety of ice cream trucks available from Tonka.
Press the button and watch this ice cream truck go! A fun addition to the toy box of any child.
Pull back trucks offer hours of entertainment. Available in single or multi-packs, Kinsfun ice cream truck toys are great for presents or party favors.
A toy ice cream truck gives kids the opportunity to enjoy hours of creative fun as they delve into the world of ice cream delivery.
Ice Cream Truck Toys
Go back to Ice Cream Gifts Main Page
Go back to Ice Cream Truck Main Page
Go to Serving-Ice-Cream.com Home Page from Toy Ice Cream Truck