Topping Giveaway Ice Cream Game
by Serving-Ice-Cream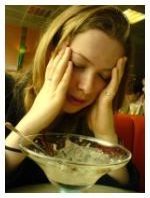 This ice breaker ice cream game gets people talking. Guests aren't allowed to say the words "Yes" or "No" – if they do – they lose a peanut! It's a great game for an ice cream party where people don't know each other, because it spurs interaction with others.
What You'll Need
10 peanut halves for each person (or other sundae topping that won't melt in people's hands – no chocolate!)
How to Play
Give every guest 10 peanut halves when they arrive at the ice cream party.
Tell each guest they must not say the words "Yes" or "No" – but they need to try to get other people to say "Yes" or "No."
Whoever says the words "Yes" or "No" must give one of the peanut halves to the person who got him to say those words.
The person with the most peanut halves at the end of the game wins.
You can play this game as an initial ice breaker or continue to play it during your whole party.
Go back to Ice Cream Game Ideas Main Page
Go to Serving-Ice-Cream.com Home Page