Vanilla Milkshake Recipe
A vanilla milkshake recipe that's perfect for you.
Who can resist a cool, refreshing vanilla milkshake? Whether on a hot summer's day or simply as a good old-fashioned compliment to a burger and fries, a milkshake can make anyone's day.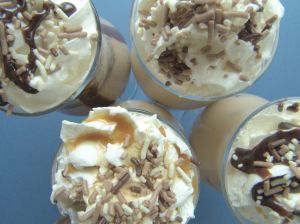 Vanilla Milkshake Recipe for Everyone
Prep Time: 5 minutes or less
Servings: 1 serving
Ingredients:
3 scoops of vanilla ice cream
1 teaspoon of vanilla extract
2 teaspoons of sugar
1 1/2 cups of milk
Directions:
Use a blender to mix together all of the ingredients listed above until they have a smooth, creamy texture.
Serve the milkshake in a tall glass with a straw, some whipped cream, and a maraschino cherry. Enjoy!
For Fewer Calories:
If you are trying to watch your weight, 2% milk and low-fat ice cream create a low-calorie milkshake alternative that you will love.
You can also try using frozen yogurt instead of ice cream, but expect a slightly thinner texture.
For Simplicity:
If you don't happen to have vanilla or sugar, simply blending vanilla ice cream with whole milk creates a simple but delicious vanilla milkshake.
For thicker Milkshakes:
Using less milk is an easy way to create thicker, richer milkshakes. After all, you're mostly eating liquefied ice cream! Yum!
For the Chocolate-Lover:
Some people just need a little chocolate to keep them going.
Simply add a good squirt of chocolate sauce for a hint of chocolately goodness in your vanilla milkshake.
For the Fruit-Lover:
Simply throw in some strawberries, bananas, or other fruits are another delicious way to mix it up, if you have a fruity crowd.
For Kids:
When serving a younger audience, smaller portion sizes are a must.
Simply cut this milkshake recipe in half for a child-sized version that they will love!
Make them for yourself, for your friends, or for your loved ones for a chilly treat that no one will turn down.
Milkshakes have been enjoyed by adults and children alike ever since the advent of the blender in the early 1900s. Since that time, ice cream lovers have attempted a wide variety of vanilla milkshake recipes, seeking to find the perfect beverage.
Today, milkshake recipes offer quite a bit of creative variation. For those who like to try new things and spice up everyday recipes, try some of the delicious alternatives listed below. Whether you love a simple vanilla taste or a chocolate-lover's dream, you will find a delicious recipe here.
Go back to Ice Cream Recipes Main Page
Go to Serving-Ice-Cream.com Home Page from Vanilla Milkshake Recipe