Bunch of Yummy
by Shirley Hodge
(Bangor, Penna. )
A vanilla and coffee sundae with marshmallow topping, toffee topping, peach slices, powdered sugar, nutmeg, whipped cream, and walnut halves!
The ice cream sundae that puts a Bunch of Yummy in your tummy!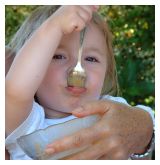 What You'll Need
3 slices peeled Fresh Peach
Fresh Grated Nutmeg
1 tbsp Powdered Sugar
2 dips of Coffee Ice Cream
1 dip of Vanilla Ice Cream
Marshmallow Cream Topping
Toffee Topping
Whipped Cream or Topping
Walnut Halves
What You'll Need to Do
Place the peach slices in a dish and sprinkle with just a pinch of fresh nutmeg and the powdered sugar and let stand for a few minutes.
Meanwhile, place a dip of coffee ice cream in a parfait dish.
Top with some marshmallow topping.
Then, place a dip of vanilla ice cream, 3 peach slices, and some toffee topping on top.
Add another dip of coffee ice cream, more marshmallow topping, and a drizzle of toffee to your ice cream sundae.
Decorate with a big dab of whipped cream or whipped topping and another 3-4 grains of nutmeg.
Add a walnut half to top it off…and you've got yourself a Bunch of Yummy!
Go back to Ice Cream Sundae Main Page
Go to Serving-Ice-Cream.com Home Page