New York Vanilla Ice Cream Recipe
A New York vanilla ice cream recipe. Is your mouth already watering with those words?
There's vanilla, and then there's French Vanilla….and then there's NY Vanilla!
Delicious!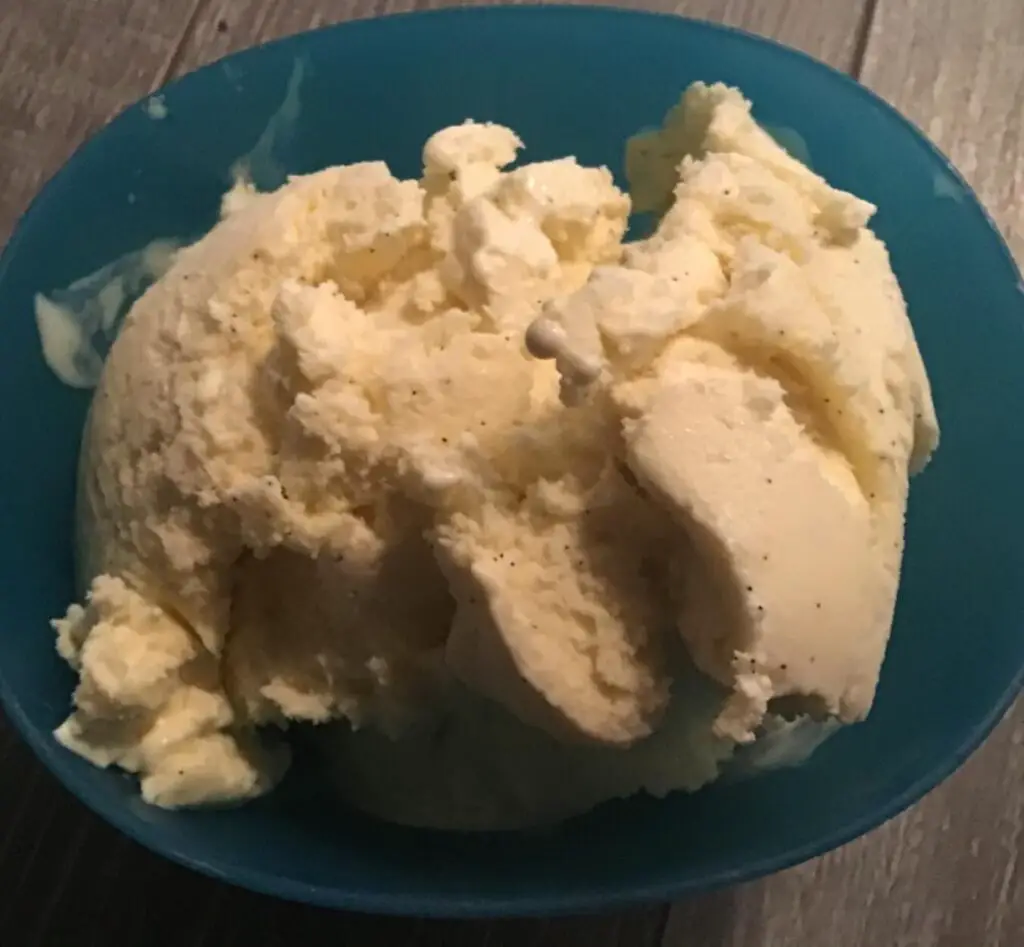 I didn't even know this flavor existed until a dear old lady mentioned to me that she has a scoop of New York style vanilla ice cream every night. She made a point that it had to be New York style. No other kind would do. She laughed at herself because she couldn't pinpoint why that particular style was so addictive to her.
I was intrigued. What was the deal with this flavor?
I just had to find out.
So What is New York Vanilla Ice Cream
New York. Loved by many for all different reasons – but the local fair is certainly a treat sought after by tourists and locals alike.
Ice cream parlors and creameries are a favorite of young and old.
Over time, a certain ice cream style got associated with the city.
It's rich, folks.
Delicious and full of flavor.
You see there are 2 styles of Vanilla ice cream named after large American cities.
Philadelphia style ice cream is an ice cream that is made without eggs. Because of this, it is not as rich and creamy as other styles.
Then there is French Vanilla ice cream. It's a custard ice cream made with eggs.
And then there's New York style. Creamier, richer, and bursting with more flavor than even the French version.
Meet NY style vanilla.
It has more eggs and more vanilla than the other vanilla versions.
It's delicious.
I think after trying this recipe we can all say "I LOVE NY!"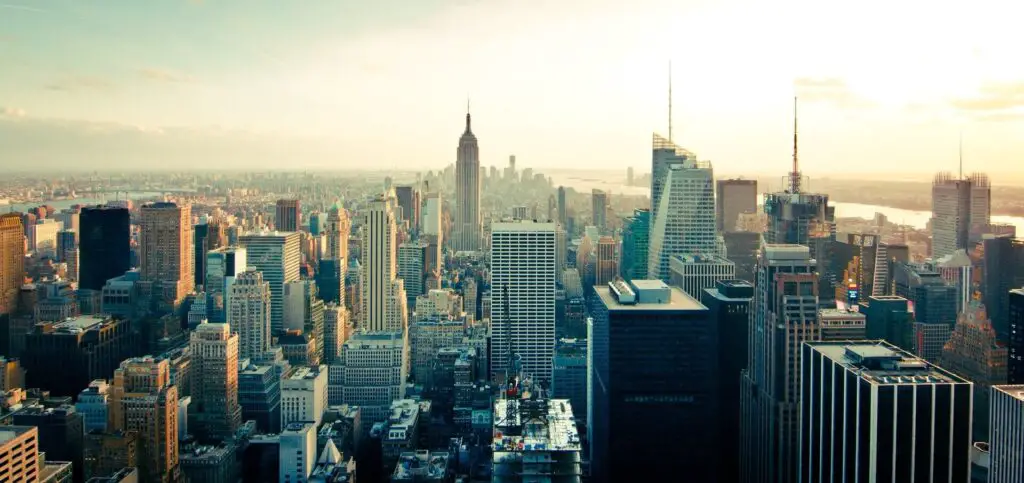 How to Separate Out the Egg Yolk
This ice cream style uses a lot of eggs. So lets make sure you know how to get down to the yolk!
Gently crack the egg over an extra bowl, but do not open the egg.
Try to crack the egg in the center.
Carefully open the egg a little bit. Allow the egg white that is ready to come out to run out into your bowl.
Tip the egg so that the entire yolk fits in one side of the cracked egg. As you do this, allow the white of the egg to drop out of the egg and into your extra bowl.
Pour the egg yolk carefully onto the other side of the cracked egg, allowing more of the egg white to fall out of the crack as the yolk passes to the other side.
Continue to flip the egg back and forth until the white is gone and the yolk remains.
Place egg yolks in a separate bowl from the egg whites and continue until you have enough egg yolks.
**Beware of the sharp edges from the cracked egg, these can break your egg yolk.
**It is not the end of the world if you lose a bit of egg yolk or if some egg whites get in with the egg yolk.
An Easier, but Perhaps Messier Way
I've never tried it, but I've read of people cracking the egg and then pouring the egg onto their hand.
Simply keep the egg yolk in your hand and allow the egg white to run through your fingers into a bowl designated for egg whites.
Then place the egg yolk in a bowl designated for egg yolks.
What to Do with the Egg Whites
You don't have to throw the egg whites out.
You can use egg whites in desserts or glazes.
I've even scrambled them with a few yolked eggs and eaten them for breakfast.
How to Prepare a Vanilla Bean
This recipe calls for 2 vanilla beans. You can, of course, substitute them out and use vanilla paste or vanilla extract.
Slice the vanilla bean in half lengthwise to open the pod and expose the seeds.
Using a blunt knife, scrape the knife along the inside of the pod to remove the seeds.
For our recipe, plunk the seeds and the pod into the vanilla base to heat and infuse all of it's vanilla-y goodness into your ice cream base.
The vanilla pod will be strained out.
The seeds will remain in the ice cream, giving it a classy look.
Serving Tip
There is no reason not to serve this ice cream by itself in all of its rich, creamy, flavor-packed glory…but you can definitely pair it with all sorts of desserts.
It is delicious with hot fruit, cookies, or your favorite sundae toppings.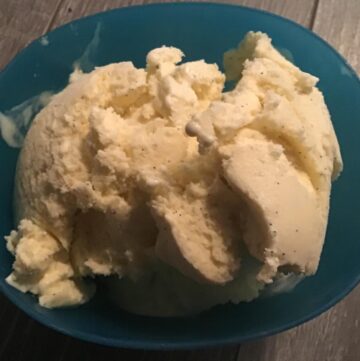 New York Vanilla Ice Cream
Creamy, yellow vanilla ice cream - New York Style. I love New York!
Ingredients  
3/4

cup

sugar

divided

8

egg yolks

1½

cups

whole milk

pinch

salt

2

vanilla beans

vanilla paste or extract can be used, see notes

1½

cups

whipping cream
Instructions 
Whisk 1/4 cup sugar and egg yolks together in a heat proof bowl. Mix until the color of the yolks lighten. Set aside.

In saucepan, mix together milk, sugar, and salt.

Split 2 vanilla beans lengthwise. Seed vanilla beans.

Add both vanilla bean pods and seeds to the milk mixture.

Heat milk over medium heat until it just begins to steam and bubble on the edges.

Slowly pour heated milk over eggs, whisking while your pour, until the milk and eggs are well mixed.

Pour milk mixture back into saucepan and gently reheat, stirring constantly until the mixture begins to coat the back of your spoon.

Remove from heat and remove vanilla pod by pouring through a strainer.

Cool this mixture in an ice bath (Add cold water and ice to a large bowl. Place your ice cream base in a small bowl and place into large bowl to cool quickly).

Once cooled, stir in whipping cream.

Cover ice cream base with plastic wrap (push the plastic right against the top of the ice cream base so they are touching). Chill completely in refrigerator (6-8 hours or overnight).

Pour ice cream base into ice cream maker and churn according to manufacturer's instructions - about 25-30 minutes.

Enjoy the classic taste of New York!
Notes
If you don't have a vanilla bean, you can substitute out another vanilla product.
1 vanilla pod is equal to 1 tbsp of vanilla extract or 1 tbsp of vanilla paste.
So this recipe requires 2 vanilla beans, so you will need 2 tbsp of vanilla extract or 2 tbsp of vanilla paste.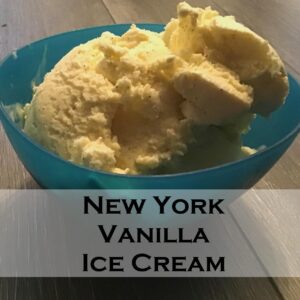 Go back to Ice Cream Recipes Main Page
Go to Serving-Ice-Cream.com Home Page from New York Vanilla Ice Cream Recipe