MocaMintCrunch
by Angie P
(South Elgin, IL USA)
A pink peppermint ice cream sundae topped with chocolate sauce, whipped cream, and crushed peppermint candy.
Here's an ice cream sundae that's a satisfying way to end a meal! MocaMintCrunch add's a little flair to the traditional peppermint/chocolate flavor combination!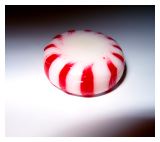 What You'll Need
Pink Peppermint Ice Cream
Chocolate Sauce
Whipped Cream
Crushed Peppermint Candy
What You'll Need to Do
Take the pink peppermint ice cream and scoop it into your bowl.
Then, put chocolate sauce on top of the ice cream.
Next, spray on some whipped cream.
Finally, add some crushed peppermint candy on top.
Enjoy a new family favorite!
Go back to Ice Cream Sundae Main Page
Go to Serving-Ice-Cream.com Home Page