I Love Ice Cream
Ice Cream Contest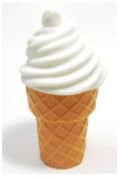 This month we're having an I Love Ice Cream Survey! Win a $5 Amazon Gift Card!
I Love Ice Cream Survey!
Contest Ends August 30, 2010 Winners announced August 31
The Ice Cream Contest
We're searching for ice cream lovers!
Simply let us know your thoughts about ice cream by taking our quick survey.
Rules
Only quality, family friendly submissions will be accepted.
All submissions must be entered by August 30, 2010.
All entries must be made by a person 18 years or older
Winner must be an American.
Only one submission per person.
Some of the info you submit may stay "live" on www.Serving-Ice-Cream.com even after the contest is over!
Choosing a Winner
Winner will be randomly selected.
Prize
The winner will receive a $5 Amazon Gift Card!
So what are you waiting for? Take the survey now!
I Love Ice Cream Survey
Please note that all fields followed by an asterisk must be filled in.