Ice Cream Maker Freezer
An ice cream maker freezer – there's so many different ones available. Let us help you choose the one that best suits your needs.
Would you like to own an ice cream maker that offers a quick and convenient way of preparing a delicious homemade treat?
There are several questions to cover before making this purchase.
Here we'll review compressor freezer ice cream makers, but if you'd like an overview of the different models available, check out Types of Ice Cream Making Machines.
What ice cream maker produces the highest quality of ice cream?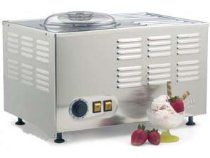 A self-cooling ice cream maker does. Why?
It contains a built-in freezer, allowing the machine to run continuously, maintaining a consistently cold temperature. This feature gives you the added convenience of not having to cool any components prior to making your ice cream.
It requires no cranking or messy salts to interrupt the process just add the mixture and turn the machine on and you will have ice cream ready to serve in less time than the hand-cranking or freezer bowl models – with a lot less work on your part.
This type is referred to as the automatic model or self-contained compressor freezer.
Best Models for Freezing Ice Cream
While the Musso ice cream maker ice cream maker is considered the best model. Cuisiart also puts out a Cusinart professional ice cream maker model – the ICE 50BC – which is also a great option.
It is a good idea to keep in mind several features that will ensure you have selected a good model.
When selecting an ice cream maker freezer, look for one with a sufficient opening for add-ons, a speed selector and timer, a safety shut-down, removable parts for easy cleaning, silent operation, and recipe hints (although – there's a lot to choose from right here on this site!).
The only cons to this type of ice cream maker are its size, weight, and cost in comparison to other types of ice cream makers.
Benefits of Owning an Ice Cream Maker
Did you know that making ice cream at home allows you to control the sugar and carbohydrate content of your ice cream?
You can choose what types of creams or artificial or natural sweeteners to use.
Preparing the cool dessert on an ice cream maker with a built-in freezer, you can have a homemade sundae or banana split ready for tasting in under an hour.
In the average time it would take you to bake a cake, you could prepare a frozen treat, perfect for warm summer days.
Why not add an ice cream maker of your own to your kitchen tools?
Where to Buy an Ice Cream Maker
Ice cream makers, supplies, and recipes are available right here on Serving-Ice-Cream. We point you to the best places to get ice cream makers and supplies and we provide you with tons of ice cream recipes.
What are some helpful hints to keep in mind when using an ice cream maker freezer?
Use your imagination to think up new recipes.
Mix fruits or candies into your ice cream, and add exotic ingredients or textures to invent a treat that is truly unique…or simply create a homemade version of a favorite flavor.
With an ice cream maker of your own, the possibilities are endless.
Go back to Ice Cream Making Machine Main Page
Go back to Ice Cream Maker Main Page from Ice Cream Maker Freezer