Heaven
by Jenn S.
(Cibolo, TX USA)
A peppermint ice cream sundae topped with chocolate shell ice cream topping and crushed peppermint candy.
This is the perfect ice cream sundae for all your Christmas parties – but it'll taste great throughout the year! You won't be needing an after-dinner mint when you serve this ice cream sundae for dessert!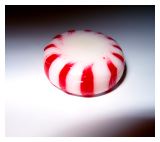 What You'll Need
Peppermint Ice Cream
Chocolate Shell Ice Cream Topping (the chocolate sauce that hardens on your ice cream)
Crushed Peppermint Candy
What You'll Need to Do
Scoop peppermint ice cream into your bowl!
Drizzle chocolate shell ice cream topping over the peppermint ice cream.
Sprinkle the crushed peppermint candy over your ice cream sundae.
Dig your spoon in and enjoy!
Go back to Ice Cream Sundae Main Page
Go to Serving-Ice-Cream.com Home Page