Commercial Ice Cream Freezer
New and Used
Need a commercial ice cream freezer? Find the freezer you need along with some recommendations and buying guides.
Needing an ice cream freezer that doesn't put the freeze on your pocket book? Commercial freezers are a must-have for restaurants, schools, delis, convenience stores, gas marts, and hospitals.
Contact us today for more information!
Let us know how what you are looking for or you can read through some buying hints before shopping.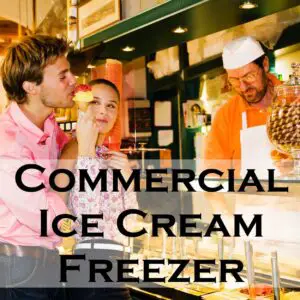 Benefits and Features
Freezers can be bought in chest style or as an upright – what ever works best for your establishment. One thing to keep in mind is that although chest freezers are more energy efficient, they do take up more floor space.
Ice cream freezers come in many sizes and shapes and are designed to give optimum visibility to all of your flavors, novelties, and frozen desserts. This feature also allows your customers to view and mull over the flavors and choices before they open the unit, losing the chill needed to keep your frozen items fresh longer.
Commercial ice cream freezers can be placed in strategic locations throughout your place of business, grabbing your customer's notice and enticing their taste buds!
Freezers come with locks in case they cannot be placed in view of cashier or other employee to protect from theft.
Options and Recommendations
There are many commercial ice cream freezers out there to choose from.
Used freezers, if they have been well taken care of, are another option to look into. Used commercial ice cream freezers are especially helpful for new businesses that are just trying to get their feet off the ground.
Let us know how we can help you find the freezer that suits your business.
Go back to Dipping Cabinet Main Page
Go back to Ice Cream Equipment Main Page
Go to Serving-Ice-Cream.com Home Page from Commercial Ice Cream Freezer