Safety Lights
for Your Vending Vehicle
Are you looking for safety lights for your ice cream truck?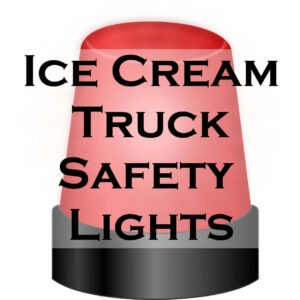 Using Safety Lights on Vending Vehicles
Here are some things you should consider.
Lights are meant to warn drivers that people will be coming to and from your vehicle.
Lights should be used anytime you stop your vehicle to make a sale.
The lights should be bright enough to capture the attention of motorists from a distance.
You should install 4 flashing hazard lights on your vehicle's roof: 2 at the front and 2 at the back. Check your city's laws for specific regulations.
You should mount lights as widely spaced as possible and at the same level.
Considerations when Buying Lights
How bright are the lights?
What kind of lights do you need? Revolving? Strobe? Flash? Colored?
How many do you need?
What are the laws for lights on vending vehicles in your town?
Tips for Using Lights
Lights for your vehicle are very important. They cause your truck to be visible both to pedestrians and to motorists. They warn motorists to be careful for the people that are coming and going from your vehicle.
The neat thing about lights is that they don't just have to be a safety feature – they can also attract people to your ice cream truck and give your business added personality and flair.
When you stop your ice cream truck to make a sale. City laws usually require that your music must be turned off and you must turn on your lights. This is for two reasons. The music off rule is to keep you from annoying your potential customers. The lights on rule is for your customers safety.
The good thing about these rules is that they can be used for your business' benefit. With the music off, the lights are now put to work to catch the attention not only of passing motorists – but also of potential customers.
This safety feature is relatively inexpensive.
There is really no reason not to include these lights on your vending vehicle.
Go back to Ice Cream Truck Equipment Main Page
Go to Serving-Ice-Cream.com Home Page from Safety Lights