Mt. Tom's Homemade Ice Cream & Candy Store
by Mt. Tom's Homemade Ice Cream & Candy Store
(Easthampton, Massachusetts)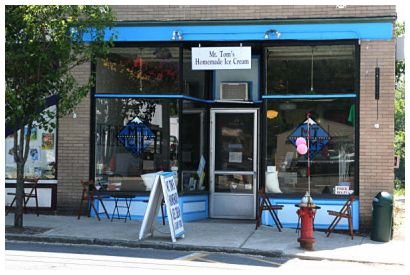 Mt. Tom's Homemade Ice Cream & Candy Store, located in downtown Easthampton, Massachusetts, offers visitors an old-fashioned ice cream parlor experience…along with delicious homemade ice cream!
What's so special about Mt. Tom's Homemade Ice Cream & Candy Store
There are a lot of things that make Mt. Tom's Homemade Ice Cream & Candy Store special. First and foremost, the ice cream, as they say in New England, is wicked good. It's hard to argue that few businesses will succeed without a great product. This is particularly true when it comes to selling ice cream in New England. Boasting the highest in the U.S. 'per capita' ice cream consumption, in spite of cold winters, New Englanders just know their ice cream.
The ice cream you'll find here at Mt. Tom's represents over 50 years of ice cream making craftsmanship, consistently voted among the 'best in the Valley' by popular local publication, the Valley Advocate.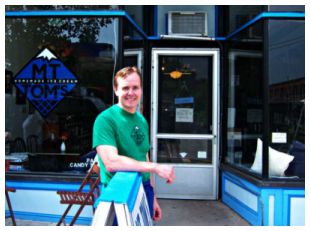 Mt. Tom's is owned by Jim Ingram who attributes his ice cream making expertise to his Dad, Dave Ingram. Dave, classically trained in food and dairy chemistry, was the lead ice cream flavor developer and quality control chemist at Howard Johnson's back when they were introducing the world to the concept of gourmet super-premium ice cream. He would later go on to own and operate his own successful ice cream shops in the Boston area before finally retiring a few years ago. But not before he could pass along his skills in the fine art of ice cream making to his son Jim. Since then, Jim has been hard at work creating some of the finest homemade ice cream you'll ever find. But don't just take my word for it, come on down and try it for yourself.
Made Right Here
Their ice cream is made right on the premises and in full view of customers. It's super-premium 14% butterfat and is super-creamy and flavorful. It's made with just the right amount of sweetness, yet with no skimping on all the other delights mixed throughout the more than 150 different flavors in the Mt. Tom's repertoire. You can find 53 flavors to choose from at any time!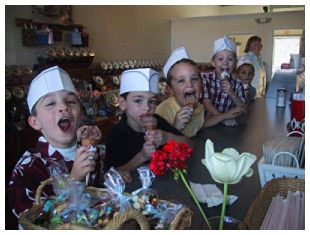 Flavors range from classic vanilla, made with pure 100% bourbon vanilla from Madagascar, to butter pecan to chocolate chip cookie dough and nearly everything in between. Special flavors are rotated in daily. These include flavors for the connoisseur – how about ginger, Mexican chocolate, honey lavender, red raspberry chocolate chip or mojito sorbet? Seasonal flavors such as eggnog, pumpkin pie, and Festivus (brown sugar and cinnamon with gingerbread pieces and a caramel swirl) are offered during the appropriate season. Part of the fun of going to Mt. Tom's is discovering what new and intriguing flavors Jim's cooked up for that week. And if you don't see your favorite, just ask, and he'll be happy to whip up a batch soon!
Mt. Tom's also offers their own homemade low-fat frozen yogurt, no sugar added ice cream, gelato, sherbet, and sorbet. They do custom homemade ice cream cakes and pies too, always having plenty available for that last-minute dessert. And with just a day's notice, they can create a custom ice cream cake with any two flavors you'd like. They'll even decorate it for no additional charge.
Sundaes, Smoothies, & Much More
An ice cream shop is only as good as its ice cream, but presentation is, quite literally, the cherry on top of the sundae. At Mt. Tom's, you can find a wide array of toppings such as rich, dark hot fudge, caramel, butterscotch, marshmallow, and wet walnuts (walnuts in maple syrup for you non-Yankees). You won't be disappointed by their whipped cream which too is homemade, as are the brownies in bottom of their brownie sundaes.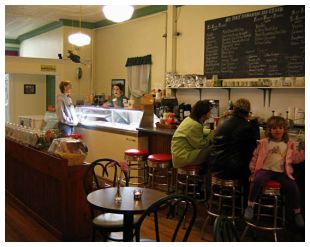 Did I mention that Mt. Tom's is also an old-fashioned candy store with over 238 candy jars full of nearly every kind of candy you can think of? So if it's gummy worms you'd like on your sundae, you're in luck! Their frappes are also a creamy slice of heaven (although folks around here call them milkshakes).
Don't hesitate to ask for one of your old favorites – a lime rickey, ice cream soda, root beer float, banana split, even an egg cream can be had at Mt. Tom's!
An Old-Fashioned Ice Cream Parlor Experience
Speaking of cherry on top, as you can see from the photographs, Mt. Tom's offers an authentic old-fashioned ice cream parlor experience. Fully equipped with a soda fountain shop counter with red padded stools, twenty foot high tin ceilings, and old hardwood floors, this place will make you feel like you've truly stepped back to a time when life was simpler and less hurried.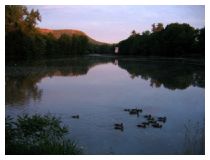 Overflowing with small-town charm and friendly service, Mt. Tom's is simply a great place to enjoy some of the best ice cream you've ever tasted. And as if that weren't enough, you'll find an old-fashioned candy store, gourmet chocolate shop, and espresso bar built right into it! So whether it's a homemade waffle cone of pistachio nut, a stack of Mallo Cups, or a custom homemade ice cream cake to go, Mt. Tom's has just what your sweet tooth is craving.
They even do birthday parties and offer free wi-fi!
Feel free to take it to go and enjoy it while you sit outside, café style, at a table on the sidewalk or while you take a leisurely stroll around the beautiful pond right in their backyard.
So what are you waiting for? Come on by!
Location:
You can find Mt. Tom's in downtown Easthampton, Massachusetts, just west of Springfield at 34 Cottage Street. Directions and more information can be found at www.MtToms.com
Mt. Tom's Homemade Ice Cream & Candy Store
34 Cottage Street
Easthampton, Massachusetts 01027
www.MtToms.com
Go to Best Places to Eat Ice Cream Main Page