Ice Cream Truck Cake Recipe
An ice cream truck cake! Are you looking for a great party theme idea, complete with a cool cake? Then why not bring back the romance of summer with an ice cream truck inspired cake.
This fun cake will delight party goers of all ages and bring back the fun of summer any time of year.
Party Themes Using an Ice Cream Truck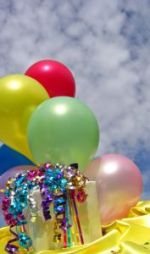 "A Day of Summer" is a fun party theme that can incorporate fun in the sun; fill up the pool, bring in the clowns, and dish up some cake that looks like an ice cream truck.
A "Nostalgia" party will bring back fond memories for a loved one growing up in the 1950s when ice cream trucks first hit the streets and when children ran with anticipation whenever they heard the familiar chime, grasping nickels and dimes in hand.
Do you have a child crazy about Transformers? Then an ice cream truck transformer cake will hit the spot.
Remember Skids and Mudflap? The Autobot twins first take on the form of an old, rustic ice cream truck when they come to Earth; relive those early scenes when the are racing around Shanghai in their transformed mode of a pink and off-white ice cream truck.
How to Make an Ice Cream Truck Cake
We all like simple and an ice cream truck cake is simple to make.
Ice Cream Truck on a Neighborhood Street
Just make a sheet cake to serve as your base; you can decorate it any way you like with any color you like, but you may want to consider decorating it to look like a neighborhood street or a road through town.
Ice Cream Truck Body
The body of the truck can be made with either a bread pan or a 9 x 13 pan; if you use the bread pan, you may want to make two so that you can cut the second cake to make bumpers.
By using a 9 x 13 pan, you can cut two smaller rectangles and stack them together, using the rounded edges to form the bumpers.
Ice your cake with any color combination you wish, using piping icing to write messages on your ice cream truck.
You can make the wheels by using mini chocolate donuts or chocolate sandwich cookies.
Ice Cream Truck Extras on the Cake
You may want to consider using an upside down ice cream cone filled with iced cake on top of your truck to add another dimension.
You can also look for decorative candies or use icing to make popsicles, ice-cream sandwiches, and other cool treats.
You could even sprinkle some rock candy around the back of your truck to represent ice.
This easy to make and fun to bake cake can be used with many party themes any time of the year.
So crank up the ice cream truck music and dish up some ice cream truck cake.
Go back to Ice Cream Cake Recipes Main Page
Go back to Ice Cream Truck Main Page
Go to Serving-Ice-Cream.com Home Page from Ice Cream Truck Cake