Ice Machine Rental
Are you looking for an ice machine rental? Ice machines provide you with the ability to make ice quickly without using up the limited storage space in your freezer.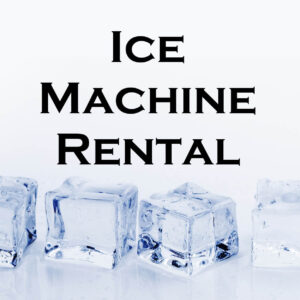 Renting an ice machine can be a painful process. After years of serving the ice cream community, Serving-Ice-Cream.com has the best ice machine that will help you have a great time!
Contact us today for more information!
Renting an ice machine can also provide you with peace of mind as many of them come with service contracts. So, once you have decided to rent an ice machine, be sure to rent a machine that fits your needs.
Ice Machine Rental: What Should You Want?
For personal use, you probably want a silent, under-the-counter ice machine  that is easy to access, but not intrusive. All of these under-the-counter units are self-contained meaning that the ice maker and holding bay are all one piece.
These ice machines are smaller, but less efficient. For business use, you should rent an ice machine that produces the amount of ice you need (NOTE: models usually produce from 400 pounds to 4,000 pounds of ice per day).
Many of these ice machines are modular so that the ice maker and ice holding bay are separate. These machines produce ice more quickly, but they also take up more space.
Ice Machine Rental: What Kind of Ice Do You Want?
Once you have settled on a basic kind of ice machine model, you should decide what kind of ice you want to make. Ice machine models can make cubed ice, shaved ice, or pearl ice. Shaved ice and pearl ice are most useful for beverages while cubed ice is multipurpose.
Some machines will dispense the ice for you Other machines just store the ice. So, if you need a model that will be used frequently in a day, consider renting a machine that dispenses the ice manually or automatically. If you need a large quantity of ice in a couple of trips per day, consider renting an ice machine with a large holding area.
Ice Machine Rental: Pricing
Finally, consider rental prices. Finding quality ice machines for rent isn't as hard as you might think and it shouldn't significantly increase your operating cost. You will want to rent a machine with an affordable lease that uses water and electricity efficiently.
The more you use the machine the more important it is to rent an efficient machine. If you plan to use the ice machine infrequently or more on some days than others, the lease price may be more important than efficiency.
Regardless, don't get caught on a hot day without ice! Decide which ice machine  is best for you and your company!
Go to Ice Cream Rentals Page
Go to Serving-Ice-Cream.com Home Page from Ice Machine Rental